I refer to it as my V-Rod for short
But it's name is "The Fire Bug"
____________________________________________________________________________________________
August 2014
Well I didn't do much over this Summer except fix the top half of the engine, now that it runs great, doesn't leak oil, so I can now turn my attention to a few other things I'd like to fix correctly
For one, I had an extra hood, took it up to my brothers & had him put some fire on it, very similar to the way it was, just a few different shades of paint
Once I ever get around to chopping the top, possibly cut a 2 or 3" section out of the lower body, I plan to paint it the same way except in high gloss paint, I'd rather get greasy than sand a car's surface flay
 I only have 1 or 2 pictures of the hood since being repainted
See if I can get them posted, I need to go back & add a few pictures that disappeared, I'll get around to that someday
Pic's below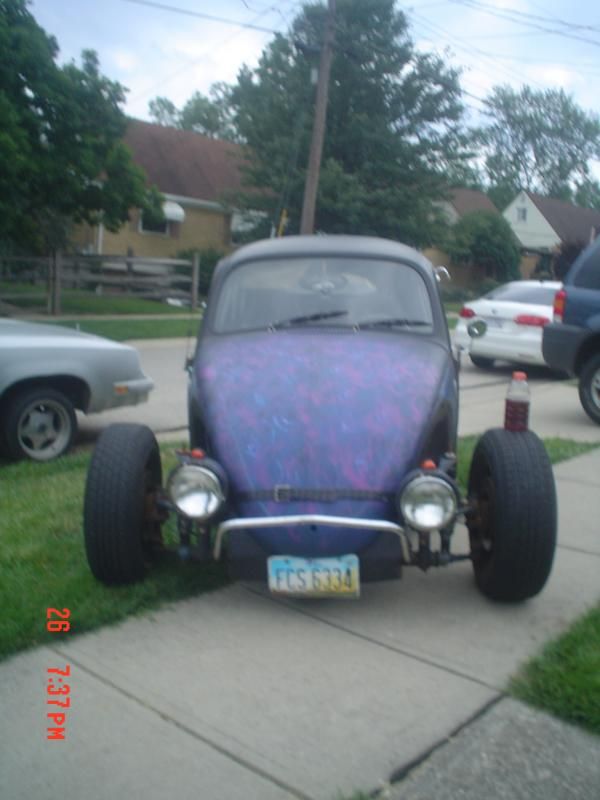 Looks much better after I took some super fine steel wool & went over the syrface to knock off any over spray, it was all painted with rattle cans & stencils my brother cut out. I copied his stencils so I can put a bit of fire on the rear deck lid, see if I can make it look like they are coming out the vents on the deck lid.
I'll see about getting a few pictures of the front since I used steel wool on it. About another month till the VW Porsche Reunion Show,hope to make it up there again this year

___________________________________________________________________________________________
I decided I better put some kind of bumper/cage on the rear end of my V-Rod to protect the engine, a few days ago while sitting at a red light I heard screeching tires, I looked in my rear view mirror only to see the car behind me finally come to a stop inches away from hitting me, I had planned to make one from scratch, but that changed when I took the rear cage off my Rail Buggy & modified it to fit on my V-Rod, wasn't to much work, just had to tie it into some place solid on the rear of the car. Future plans include making a totallt different bumper/cage, one that has more curves to it to match the body of the car, it looks to much like a Baja Bug to me, but until I make something else, it's gonna hafta do.
So I made a bar to go from one side of the rear to the other side & it bolted on to the upper rear shock mounts, from there I welded a piece of tubing to that bar & it connected to the cage with a few flanges, it looks like it will do the job of protecting the engine if somebody bumps into me, it doesn't exactly match the curve of the body, but it will do until I can get a few pieces of tubing bent the way I like it & put it on, it can wait until it gets warmer out, I will also make a front bumper similar so I have protection up front as well
Below are a few pictures of the rear end & the cage I modified to fit, it was on the back of my Rail Buggy which has become a lumber rack/steel rack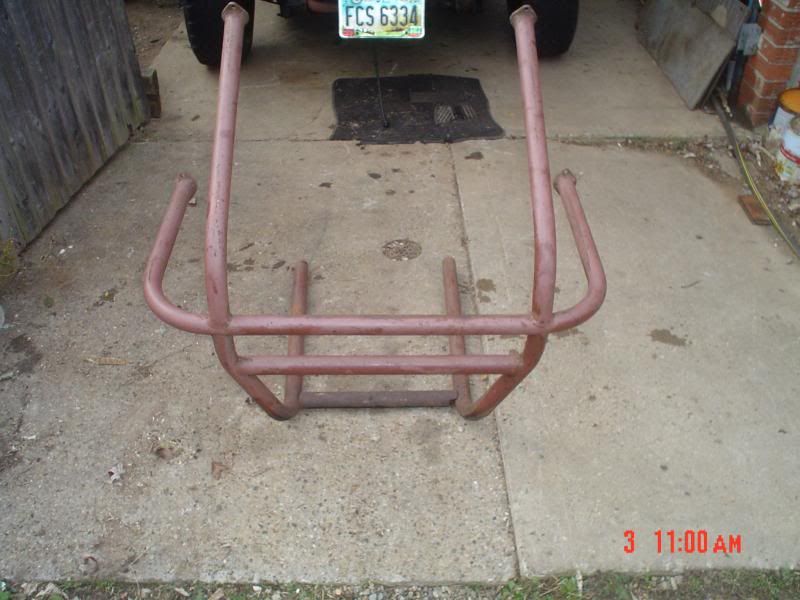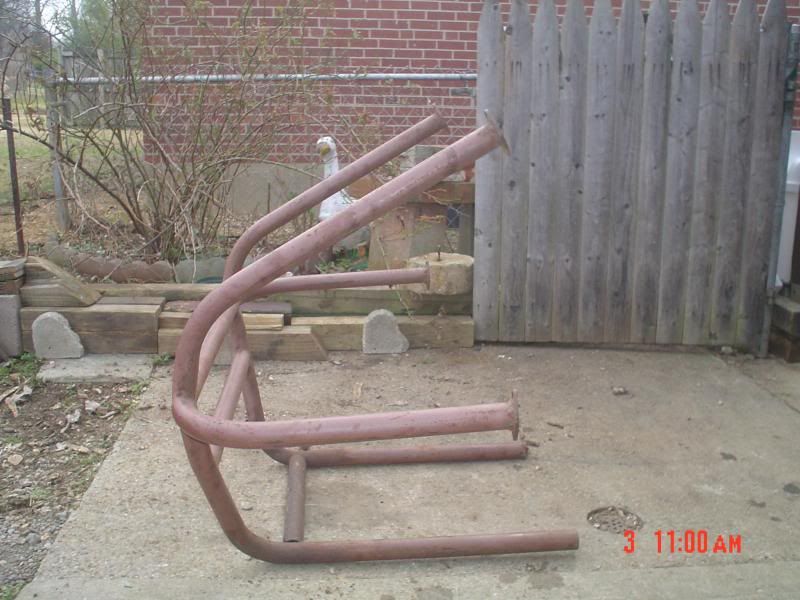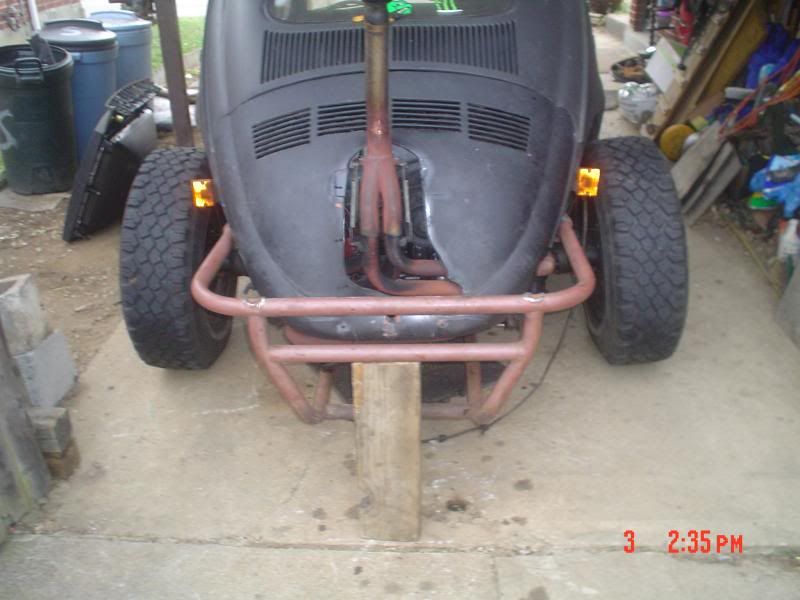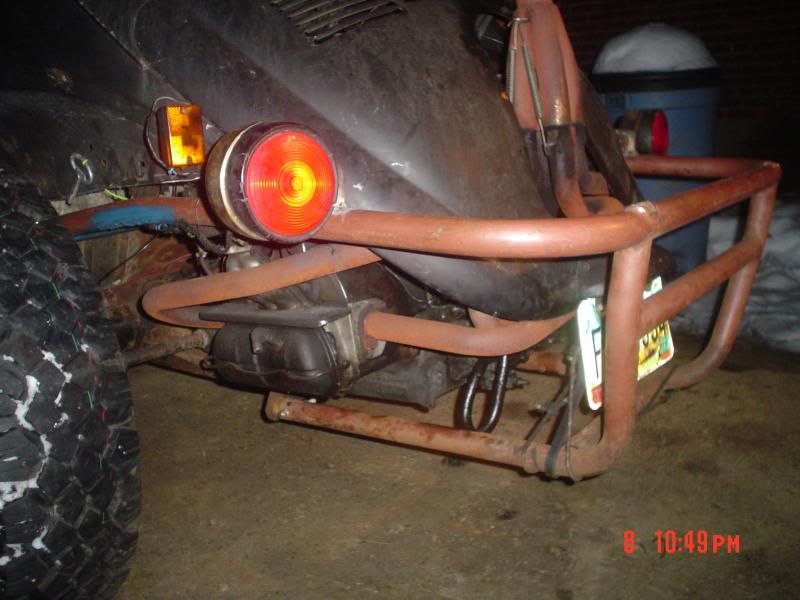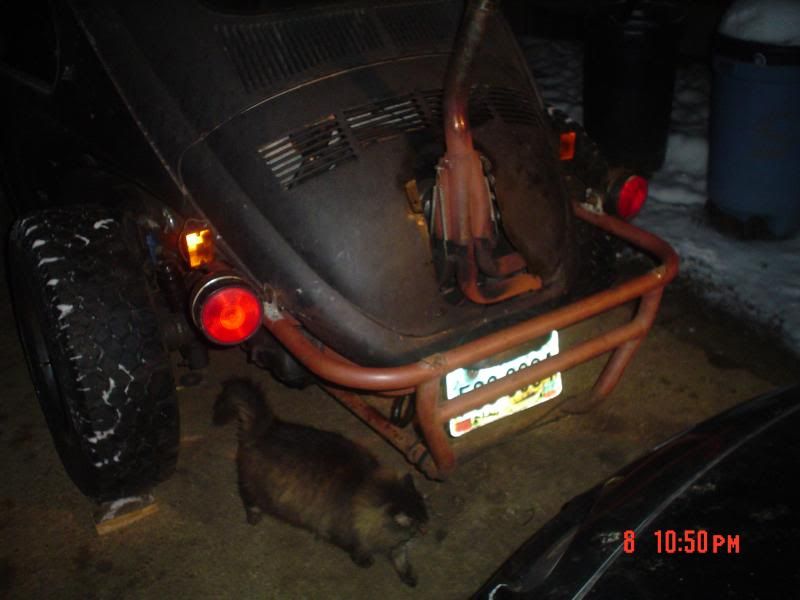 That's about it until the weather warms up, it was in the mid 20's while I was doing all this, I had so many layers of clothes & coats on it was tough for me to move my arms, I was nice & warm, but it made it tough to do anything, I hope to make a front cage style bumper as well as make another one for the rear that matches the shape of the rear end of the car
____________________________________________________________________________________________________________________________

I finally lowered the rear end of the V-Rod, next I need to modify a set of rear trailing arms, flip the right side & put it on the left side straightens the camber issue out, but it sit right where I like it !!
I made a set of plates to lower the rear 4 inches without adjusting the torsion bars, after I get the trailing arms fixed & swapped I'll get another picture of it from the rear to show how much it straightens out the camber
Below are a few pictures, the drop plates that bolt onto the spring plates, then you raise the trailing arm up until the bottom bolt is where the top bolt goes, then bolt it together, I did hafta drill 1 hole thru the spring plate using the the hole in the trailing arm as a guide, second picture is mounted on the car,

The before picture

After
View from behind
As you can see the wheels are leaning out purty bad, should have it taken care of soon

___________________________________________________________________________________________________________________________________________________________

10/27/2013
I finally got around to putting adjusters in my H-beam this past September, I've had them for almost 2 years now, so it was time, lucky for me I had a spare beam to put them in so I didn't hafta be without a car, I put the adjustable beam on the car & set the height in the middle, I have since lowered it another 2 inches as well as put shorter shocks on the front, I just need to buy a new set as these are very old & need replacing, but now that I know what size shocks I need, it makes it that much easier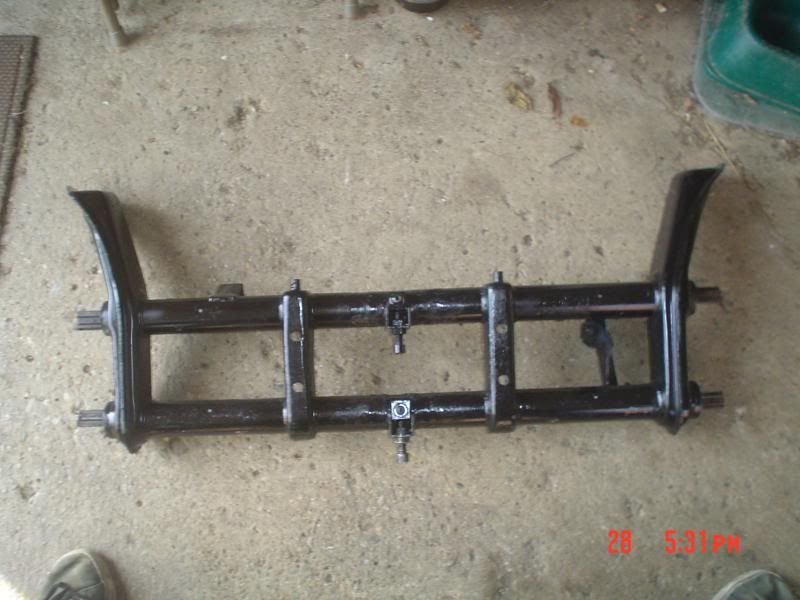 Until next time, when I hope to have some major work done to the V-Rod, still wanting to chop the top, but until then I may change the hinges on the doors so they open suicide style
_____________________________________________________________________________________________________________________
 8/17/2013
Not much happened over the summer
Well unless you call fixing all the parts I haven't had to touch since I got the car not much
I'll call it playing, wouldn't wanna call it work,
I have fun when ever I get to wrenchin, hammering, or anything metal
altho I may let loose with a few not so nice words now & then

I'm gettin better tho

 Back to the car, I finally got the wheels I'm gonna be running on the finished Bug,
They are Oldsmobile wheels withe chrome beauty rings, 5 small chrome rings in the 5 holes that are in the wheels
The rears are 15" by 7" wide from a 75 Cutlass, the front are 14" by 6" wide from a 78 Cutlass
I'm run 215/70/14"s up front because they are close to the original tire size
I'm gonna put a set of 235/70/15" tires on the back until I can afford something a but wider
I decided I was tired of the rough ride, I have had these old air shocks laying in the garage now since I built it, they held air,
so, I put them on the back of the Bug, I had to modify the lower shock mounts, but the left side needed attention right away
 One of the previous owners of the Bug must have had the left rear wheel come off on them
 It wore the bottom of the shock mount away to the point that the one hole wasn't a hole anymore
I welded a washer on each side to make the hole whole again, it didn't last but around a week
I was leaving the Rolling-on-the-River car show 7/28/2013 Sunday, they had a police man directing traffic as they do every year
He was waving me on out, I still had to cross the railroad tracks, so I hurried things along & crossed the tracks
a bit to fast, it bounced the back end of the car up purty good, when it came down, it broke the left shock mount 
When I finally got onto the street I could hear the something rubbing the ground, it was the shock
The air bag was torn where it had hit the trailing arm, I pulled over to see the damage & get the shock off the ground
I pushed the shock together so it wouldn't drag, bungy corded it up & away from everything so I could get it home
  So I took a set of rear trailing arms & painted them, I also traded the dual spring plates for single spring plates
I then had the rear wheels cylinder on the left start leaking, bought 2 new wheel cylinders, then switched parts
Got everything back together, another leak started, it's in the rear brakes, may just be the reservoir
Doesn't look like I'm a egt my top chopped anytime soon, cold weathers gonna be before I know it
I don't wanna be driving it around with only a windshield & a rear window, if it wasn't for the rain
I wouldn't mind driving it, but, rain turns to snow,I don't wanna be driving it while snow is blowing thru the car
 I also did a valve adjustment to it, I was putting it off, when I started I found out why I was putting it off
The valve covers wouldn't come off unless you removed the exhaust
So when I put it all back together I decided to put the header from my rail buggy on it
I bet it added 10 HP to it, runs so much better now, since I put that header on I had to put on the deck lid that goes with it
It was on when I first started driving it, I did some more cutting on the hole so it wouldn't touch the header
It's a rattle that drives you crazy, I also got my hands on another rear apron
Plans are to modify it so the deck lid has a complete opening around it
Below are a couple of pics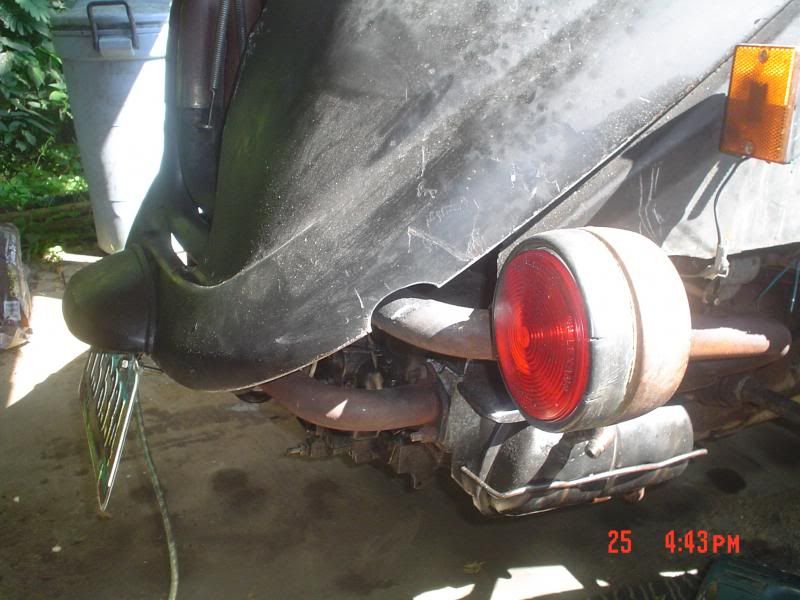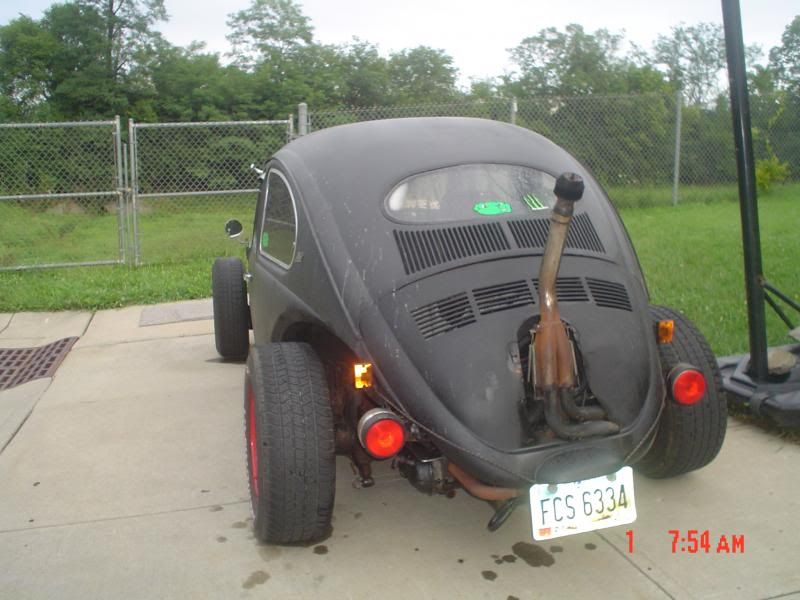 The wheel mocked up in the front

The wheels with no chrome

That's all for now, need to get a picture of two of the drivers side, that's the only side to have matching wheels, 
____________________________________________________________________________________________________________

5/15/2013
 I decided I wanna chop the top on the V-Rod. I can get a piece of glass for about $50
I'll be cutting the glass to shape myself, I wanna have a piece of glass ready to put in as soon as the paint dries
The rest of the glass won't be a problem
I did finally decide on a name for the V-Rod
The "Fire Bugz"

I got my hands on a set of Recaro Classic seats, their heated, have air bladder & an air pump that needs some attention
I'm just happy that the heat works
, if or when the heat stops working, I'll take them apart &
rebuild/replace whatever it is that doesn't work, & then I'll recover them
Pictures below
I also put some scrap carpet in the back seat area, it had bondo on it in a few places, but I thought it would add to the look
Here are a few pictures
 I had one of my rear tires blow out from a man hole cover, it was almost 8 inches below the roads surface
I had inner tubes in the rear tires, one inner tube blew, which in-turn blew the wheel apart
I suppose the 8 inch drop off had nothing to do with it
I'll get another tube, find 2 wheels & all will be good
I didn't wanna drive with one tall tire on one side & one short tire on the other so I put the only matching set of tires & wheels
I had on it, they are 5 inches shorter than the other tires, So now the back of the car sits 5 inches lower
I'm having a heck of a time getting in & out of it, I'm gonna redesign my custom floor pan I started building
so it doesn't have as much drop in it
It can't be tough to get in & out of, so I'll only lower it 3 inches
Not the best pics to compare, but there is a lot of wheel well in the bottom pic compared to the top pic

_____________________________________________________________________________________________________________________

The Beginning of the V-Rod Starts below
11/18/2010 thru 12/20/2012

This is my V-Rod which I have been building after a friend started it
He lost his place to work on it, so I took it off his hands in October 2010
I made it drivable. I drive it daily and work on it almost daily depending on how I feel 
I do more work on it during Summer months because I don't care for the temps
Once they get below 50 degrees Fahrenheit I could hibernate
Here it is the day after I brought it home October 2010
And before I began working on it.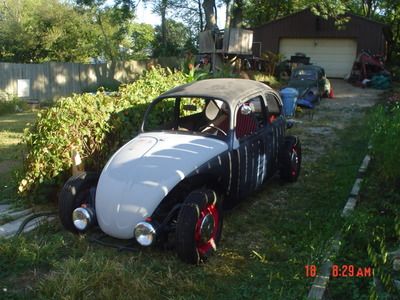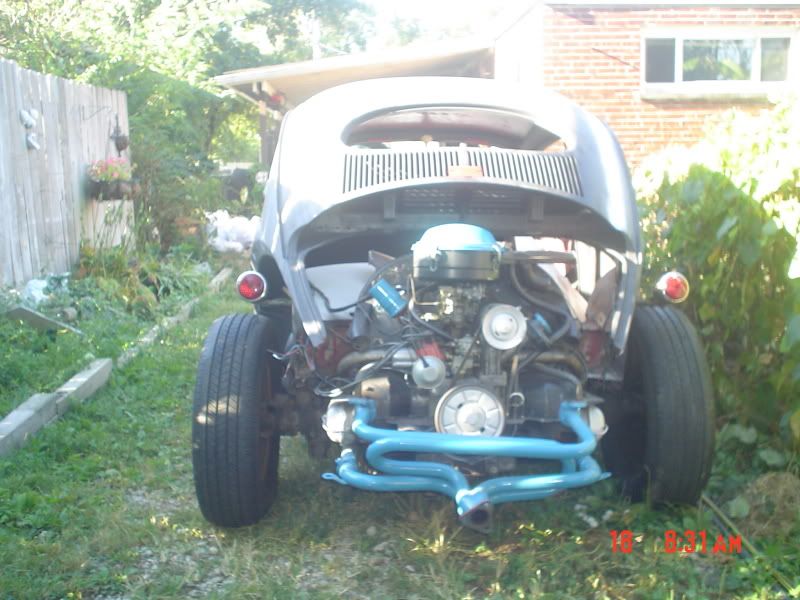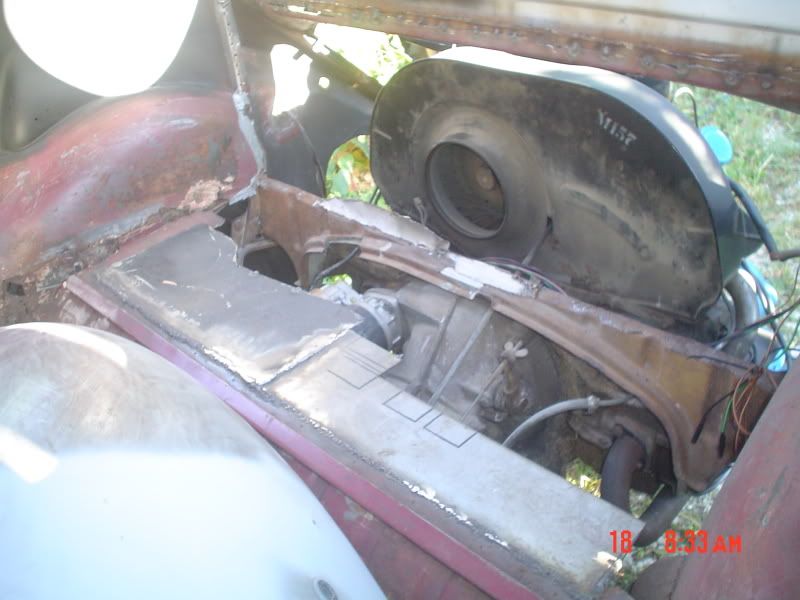 Here it is after I put a set of pistons and cylinders on it
It runs really good
I hope it last long enough for me to build another engine for it
I had to put a new floor pan in it as well as a new heater channel
I also filled the BIG hole behind the rear seat area
Being that I don't have much money I turned to used sheet metal
I had a few S10 Blazers and I used the hood to fill in behind the rear seat
Similar to how I did the BitchN Bug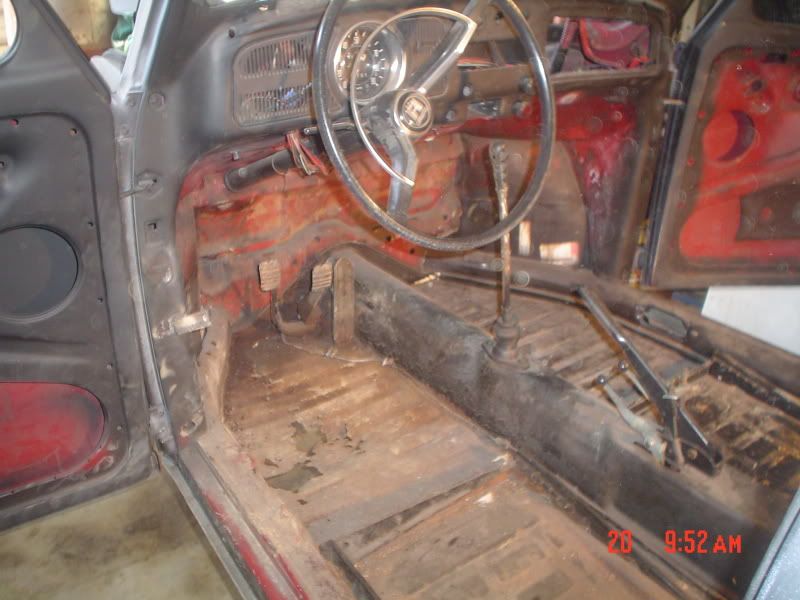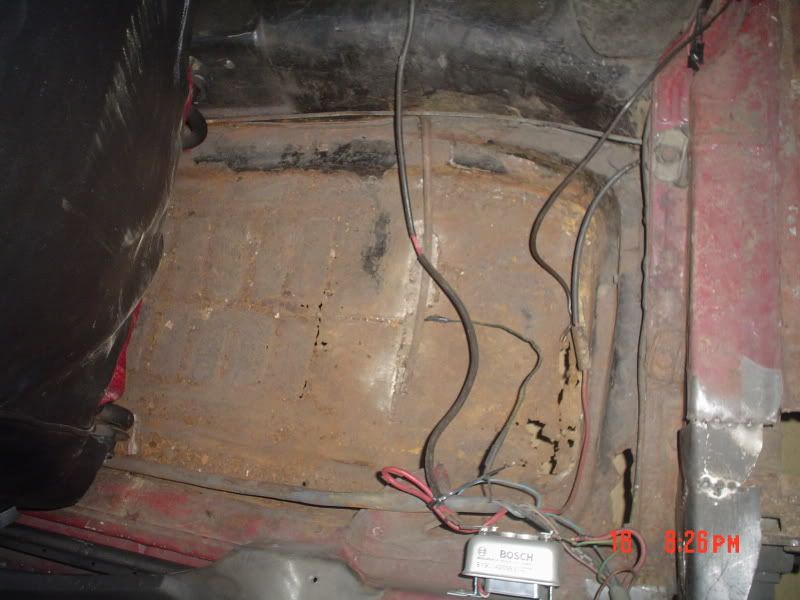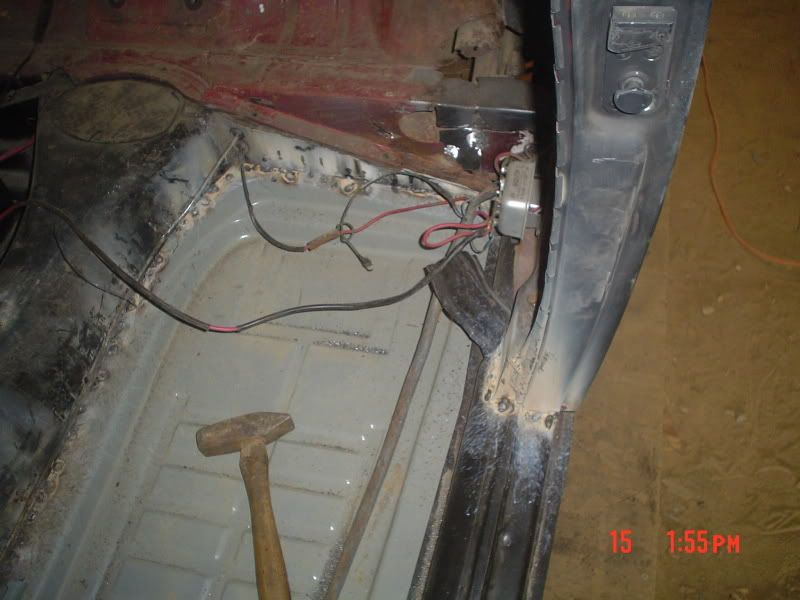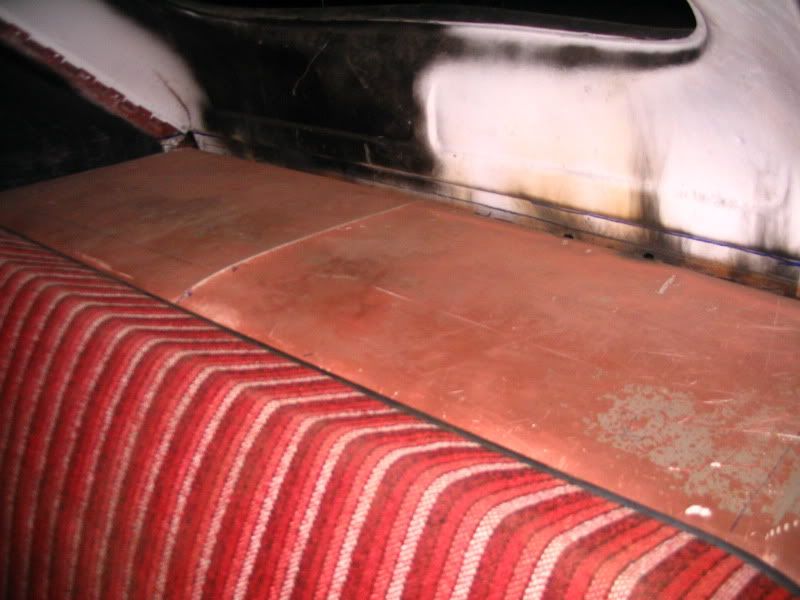 Once I got everything welded in and everything else which needed attention March 2011 was here
That's when I took it on it's 1st drive, it was rough to say the least, the front springs were cut and turned as far as possible
That only leaves about 2 inches of travel then it binds and stops on the ball joints making a trip home with eggs a mess
Here is is is before I threw a quick coat of black primer on it to make it mostly one color
I had to put a stock beam on it to make it drivable and give a smoother ride, it sure raised the front end up
The beam extender adds 8 inches to the wheel base and also lowers it 2-1/2 inches from stock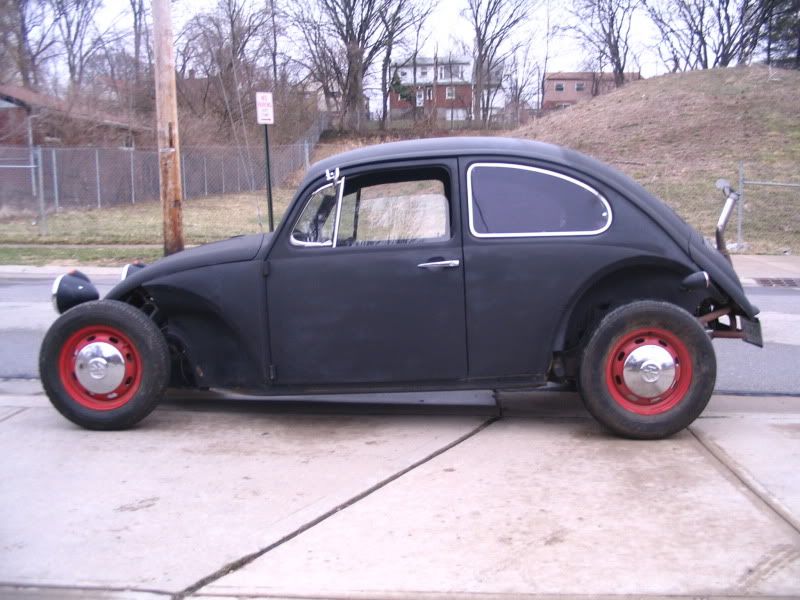 Here is a shot of the front end showing how low it was when I got it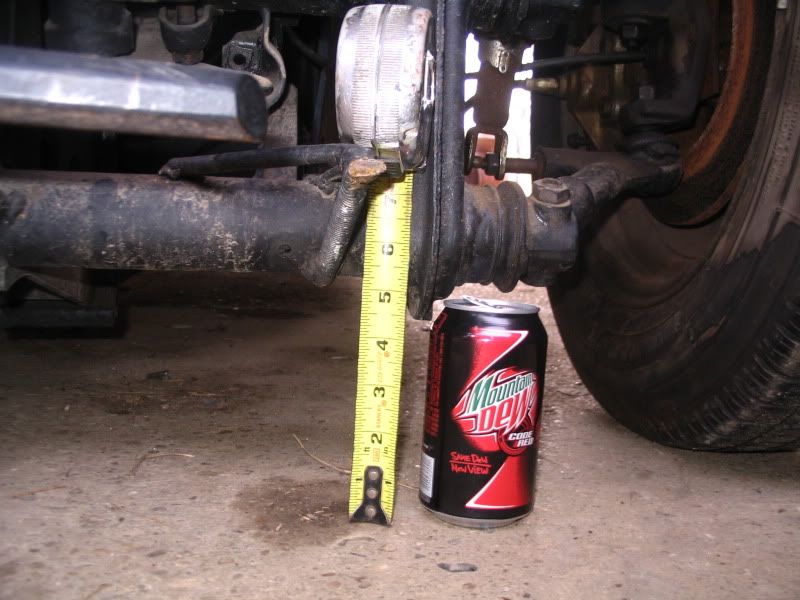 Here it is after I put a stock beam back on and raised it up
It now sits another 2-1/2 inches using lowered spindles
I haven't gotten a picture using a pop can to give a reference
But I do have a front view picture
I started making a set of rear disc brakes using the calipers and disc's from a Honda Accord
 Modifying a VW brake drum on my lathe, Here is the modified drum turned down so a Honda disc rotor fits over it
I still need to drill the VW lug pattern into the Honda disc or possibly make a set of adapters
Then I'd have a different range of wheels I can use
I just need to finish it all and get everything on the car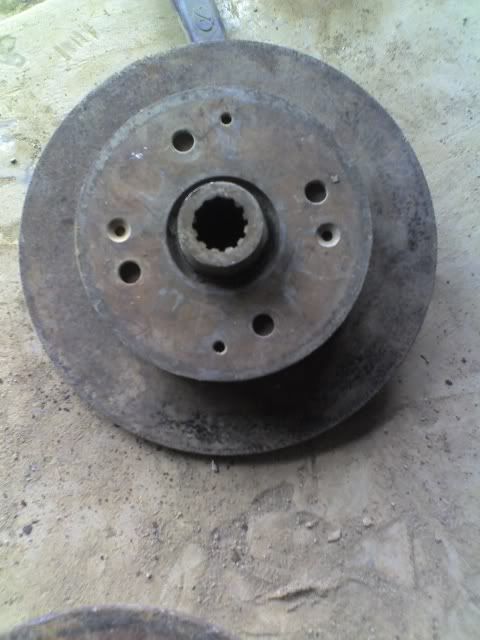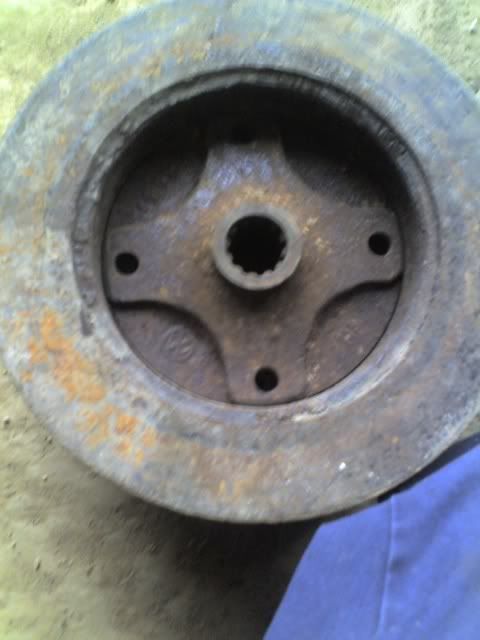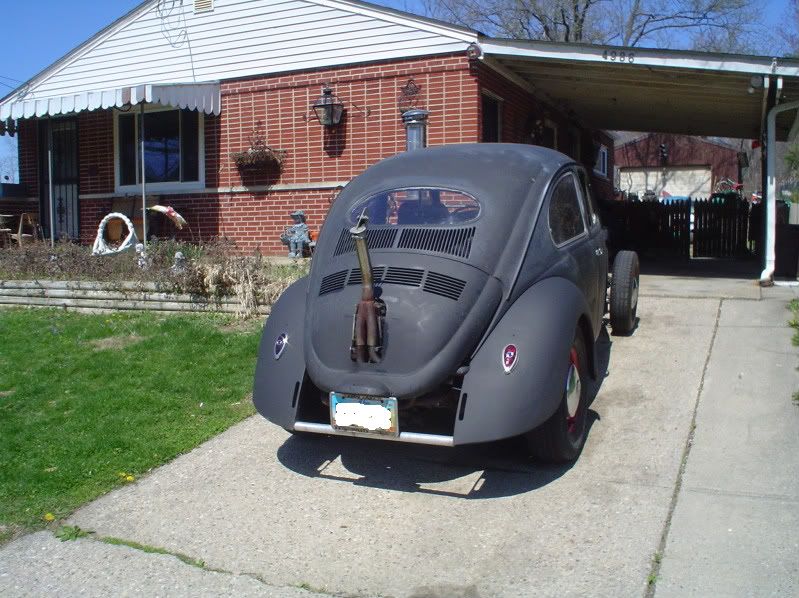 I got some front sheet metal to fill in and cover what all was cut away
I plan to enclose the front and add the top H-beam body mount to stiffen up the body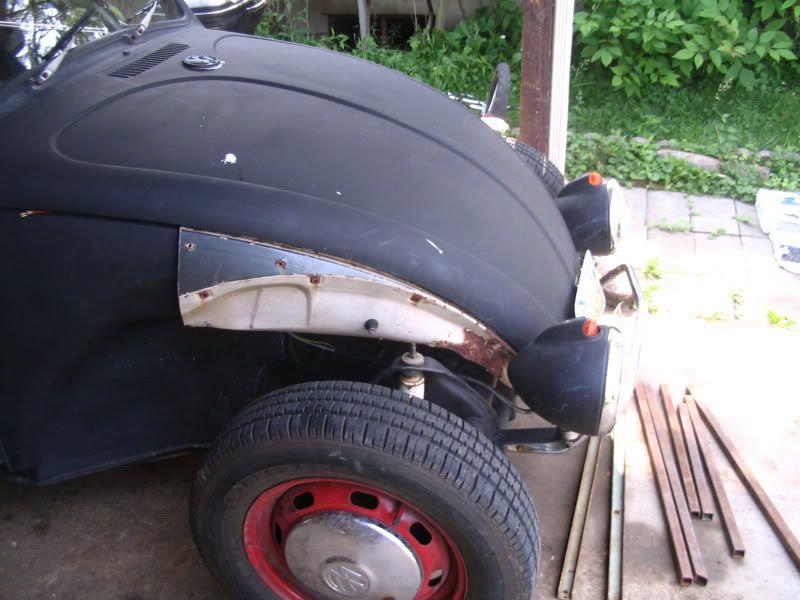 I started the front body mount and bracing the H-beam extender
I still need to put some triangular bracing in then start filling in all the openings with sheet metal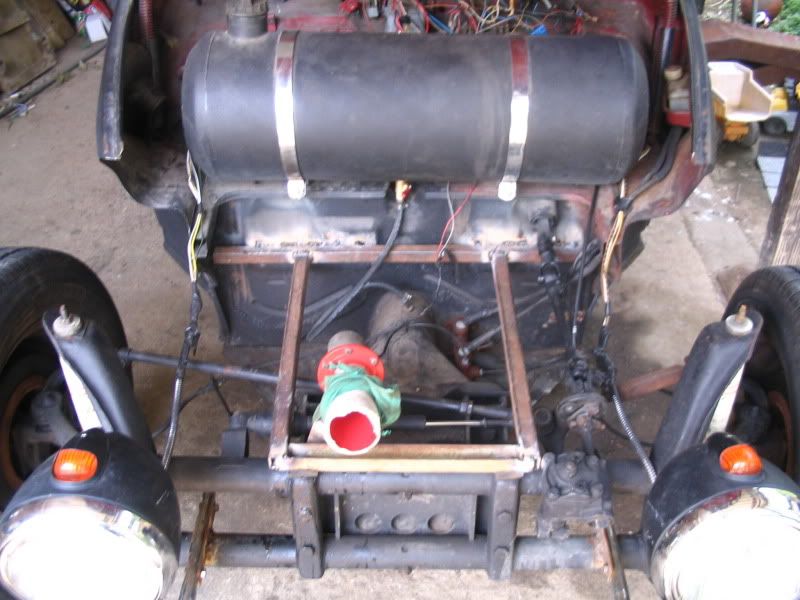 Here it is after I put the front sheet metal back on as best I could
I also taped a piece of cardboard over the wheel wells hiding the fender holes as well as making it look a bit cleaner
I still need to get 2 pieces of sheet metal big enough to cover both sides, so I need to get a hood from another car for that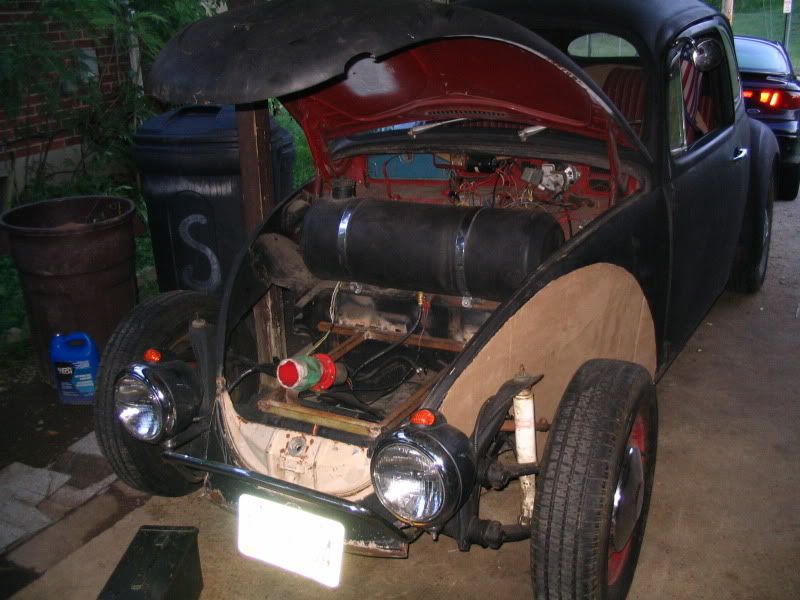 Here is yesterday (8/5/2011) after I put the 2-1/2 inch lowered spindles
The front license plate rubs the ground at times and it hits every speed bump I go over
So I may only lower it an inch or two at the most
I may just leave it be and do a body drop lowering it just a little up front
The rear of the car I plan to drop down a few inches by turning the rear torsion bars a few notches
Then I will drop the rest down when I do the body drop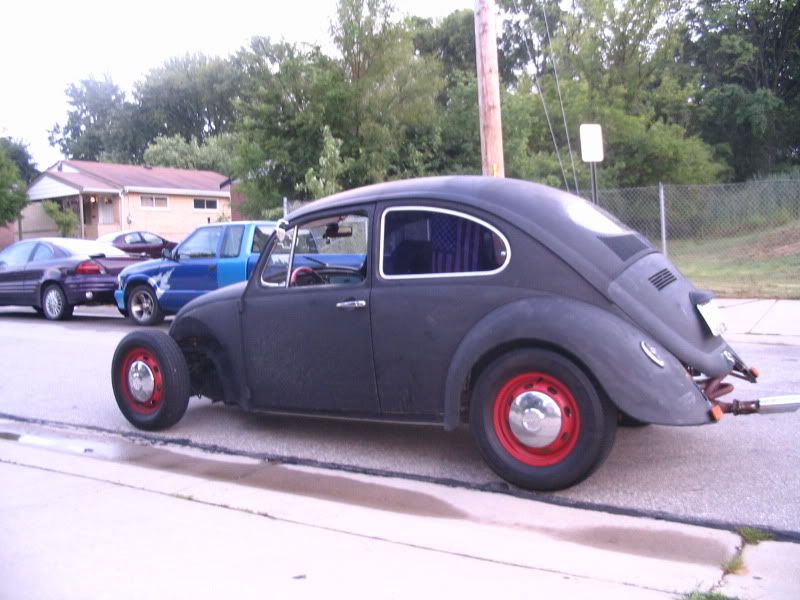 I still have a lot of work to do until I will consider it finished, but then again it may never be finished
Future plans besides dropping the body down include a chopped top
I just need to collect a few pieces from the roof of another VW roof
That is unless I just cut relief cuts and make the roof fit without using parts from another VW roof
So depending on how I go about chopping the top and lowering it
About 4 inches will either be an easy job or a tough job
I will most likely cut the windshield to fit myself, I have never
Done a top chop or cut safety windshield glass so it should be fun
If all goes as planned I will do the roof and body drop during the winter months
That also means it will be a slow process because I don't move to fast once the cold weather sets in
I only hope to make it look like a completely different car when spring 2012 gets here
Check back once a month to see how I'm coming along
Just maybe I'll get it done a bit faster than most things
Well Labor day weekend is over and I think the seasons have
gotten mixed up, September 7th today and it is in the low 60's
and raining, well it slowed down to what I call spitting
but it's still cold to me, I'm ready for more of those 90 degree
day like we had a few days ago, it usually takes me a few days
of cold for my body to adjust but not after a week of 90 degree days.

OK on to the V-Rod, nothing much to talk about, I did get 2 pieces of sheet metal
welded in front, then it's just the bottom I'll need to cover.
I then plan to put on the heater boxes and get all the holes covered up
so it doesn't have air blowing in once it gets cold, it's great during the Hot Summer days
but once it gets cold it gets even colder in the car while driving, you hafta figure in the
wind chill factor so it's not to much fun to drive fast, lets just say it is a slow cold ride.
This will be the first VW I have ever driven with heat, all the past years I just bundled up
and drove like it was 100 degrees outside, otherwise you would sweat really bad and get
frost bit by the time you reached your destination.
OK so much for words, here are a few pictures of the front where I added in
2 small pieces of sheet metal, other than that I haven't done much.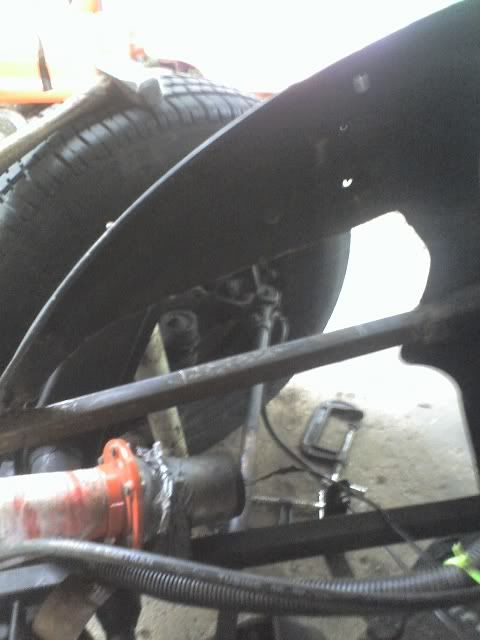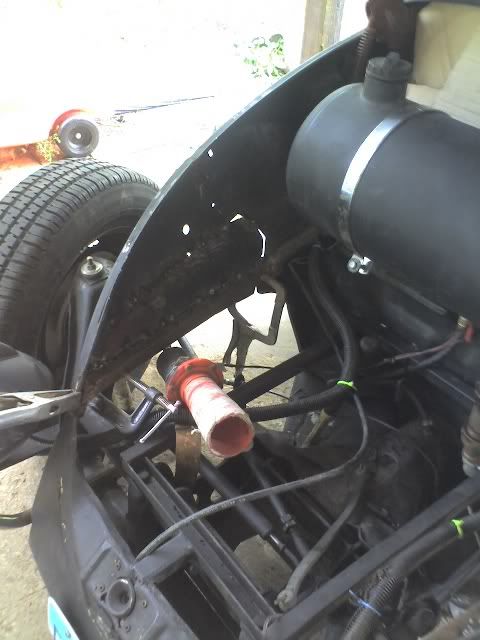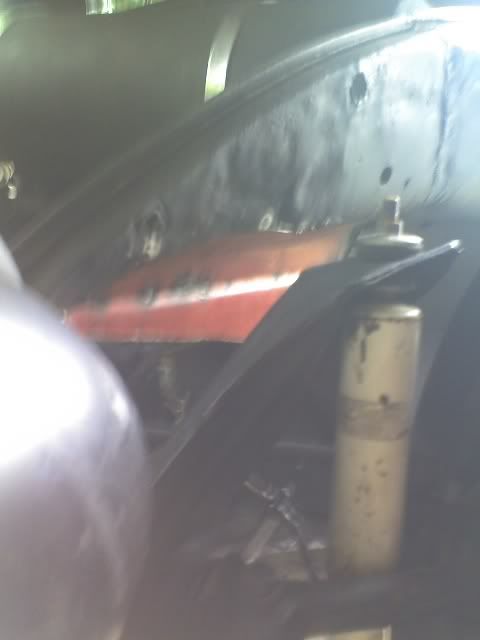 Yea yea my welding isn't that great to look at but it holds, plus the more I weld the better I get until I stop for the day
Then it starts all over again the next day, if'n I need a good strong purdy weld, I call on my youngest son who took welding,
if'n he's unavailable I call on my oldest son because they can both weld better than I
Oh yea all the sheet metal I use is from used cars that I have gotten rid of, I keep all the flat pieces like hoods, roofs
door skins or any other pieces I can use, gotta remember I have almost no money so I gotta be as resourceful as I can be

The next thing I plan to do is finish my rear disc brakes, I just need to drill 4 holes, buy 4 bolts
then mount everything together and get the calipers on and weld the caliper mount to the caliper
bracket and hook up the lines, bled them and it's disc brakes on all 4 corners.
I bought the front disc brake setup back in 97 for about $150 I believe it is just disc brakes from a Karmann Ghia
with a caliper bracket that bolts on where the front drum brake backing plate goes, the rear disc setup is from a Honda Accord
that was a parts car of my oldest son's. Cost to me zero, time to make everything fit is around 3 hours total.
I hope to have the rear brakes on before winter gets here, so the heat will be first, so I need to get out, dress warm if
it stays this cold out and get to work.
So it's February 14 2012 and I finally got the good shock I have needed so I can get
the coil over shocks off the front and lower it back down where I like it
I also painted the front section of the car Blue, next I need to paint the fronts of the
doors, then I'll sand it down so it fades from blue to black in back
Yes I'll need to repaint the back part again, but not until I get the rear end of the car
how I want it, I still need to finish the rear fenders as well as put the front fenders on
I'm just waiting on the warm/hot weather to get here so I don't need to wear
so many layers of clothing to keep warm.
I took the V-Rod on a long drive last week, about a 225 round trip to pick up a few parts
I picked up a set of front adjusters, another set of headers, next I need to get the adjusters installed
Then I'll need to modify the rear end of the body to make room for these headers
They are more for a Buggy of a Baja which has most of the rear body work cut off
All in good time, I wanna get the new floor pan built before I go removing more body metal
Here are a few pictures of the front after I lowered it yesterday, as well as a few side shots
to show how much rake it has from front to rear
After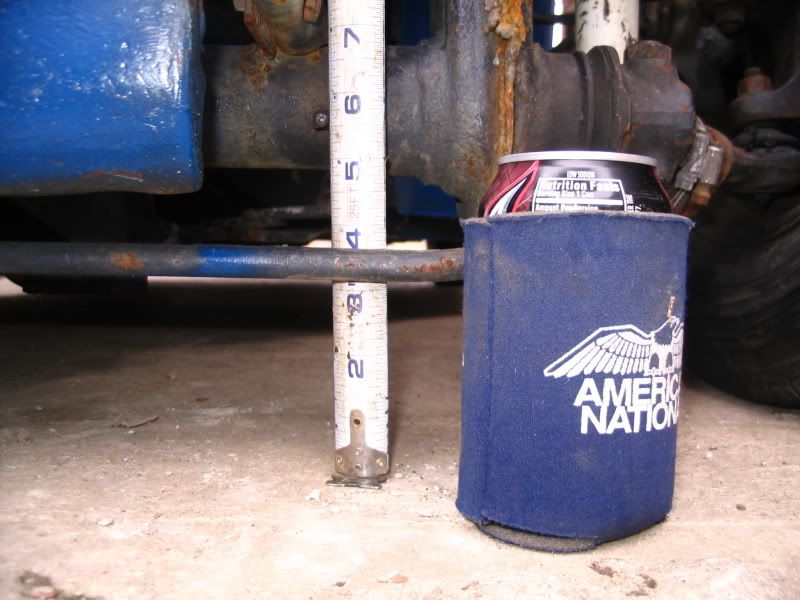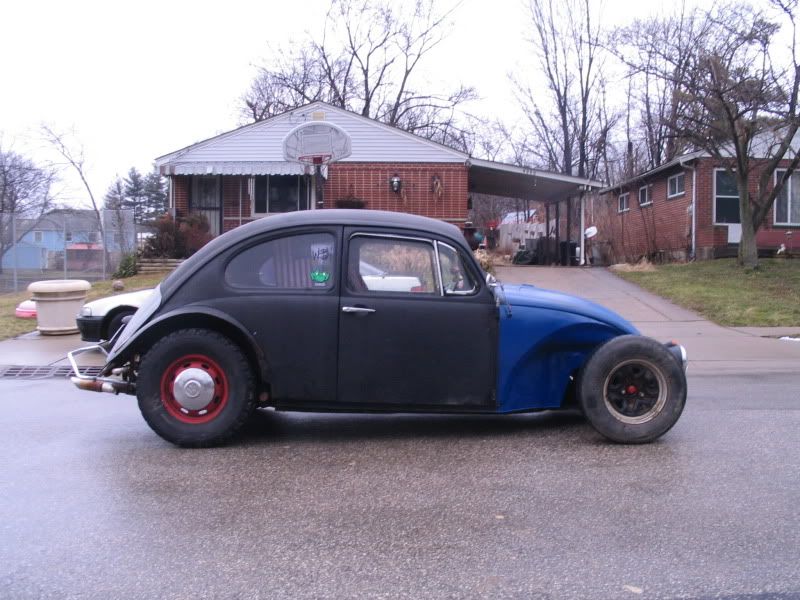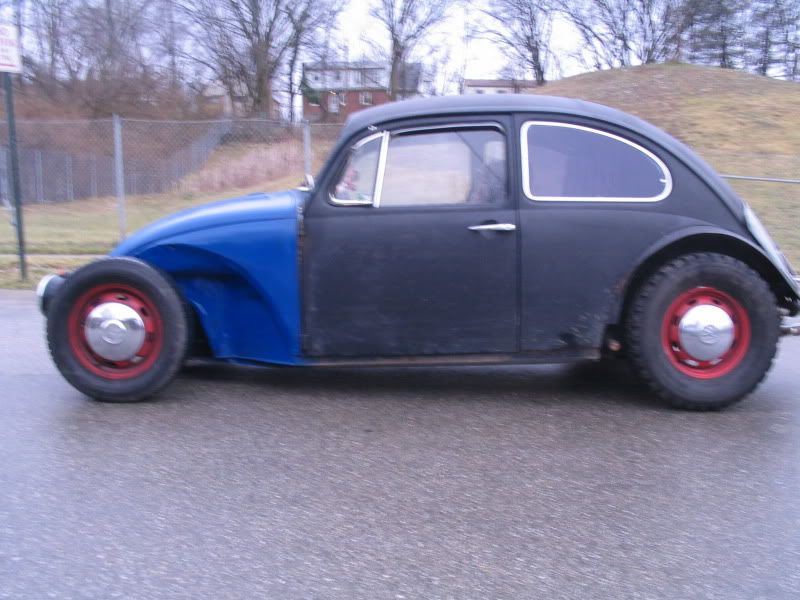 This is the new fuse block I put in to get rid of the standard VW fuses which are a PITA for me to change
Not to mention I have had a tough time finding them
But now it is much easier for me to install a new fuse without knocking the rest of them out
I still need to rewire a few things as well as get myself a cylinder head temp gauge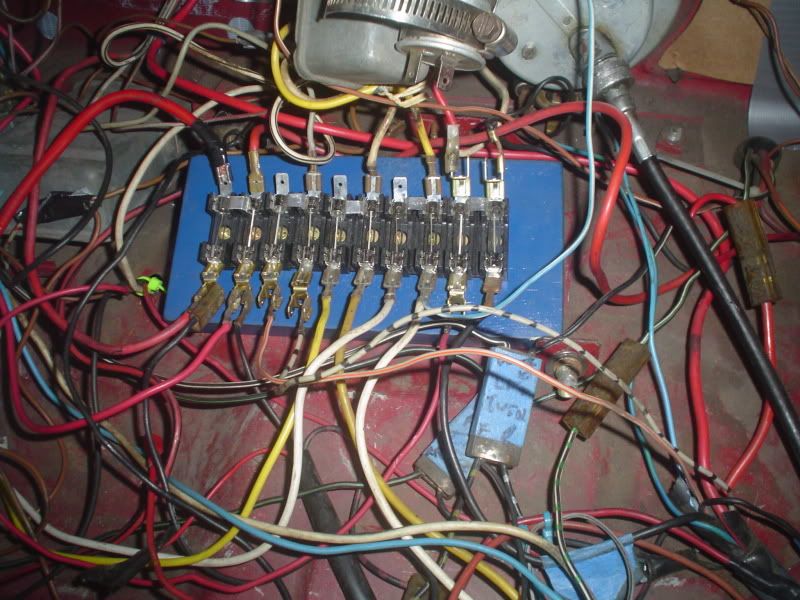 March 19th 2012
So I have done a few changes to the V-Rod, removed the rear fenders all together, also put a
mega dual exhaust on it, it looks much better and sounds much better as well
I re-ringed the engine, it had a broken ring when I got the engine
I first put my set of 87mm pistons and cylinders on it until I switched heads
(had a spark plug shoot out on me while driving), couldn't find my 9/16" drill needed to
 heli-coil the head, so I put the set of heads that were on the engine when I got it
I left the 87mm P/C on and developed a serious blow-by issue, which I fixed

by putting the the 85.5mm P/C that had a few broken piston rings, I used rings from a set of 85.5 pistons
I had laying around, it was running good up until about a month ago
That's when it started loosing power and blowing oil out the valve cover vents
Now it runs great with the new rings, guess you could say like new
I also painted the deck lid black, now it matches the rest of the car
Remember the Front is Blue, and it's Black in Back 
One day I'll get it painted, just need to find the right shade or blue, or I could just buy several different
colors of blue, might make it easier to fade to black (in Back) see how things get to rolling this summer
Thinking maybe chopping the top a few inches, I'd also like to eliminate the B Pillars, just hafta see how things play out

A few pictures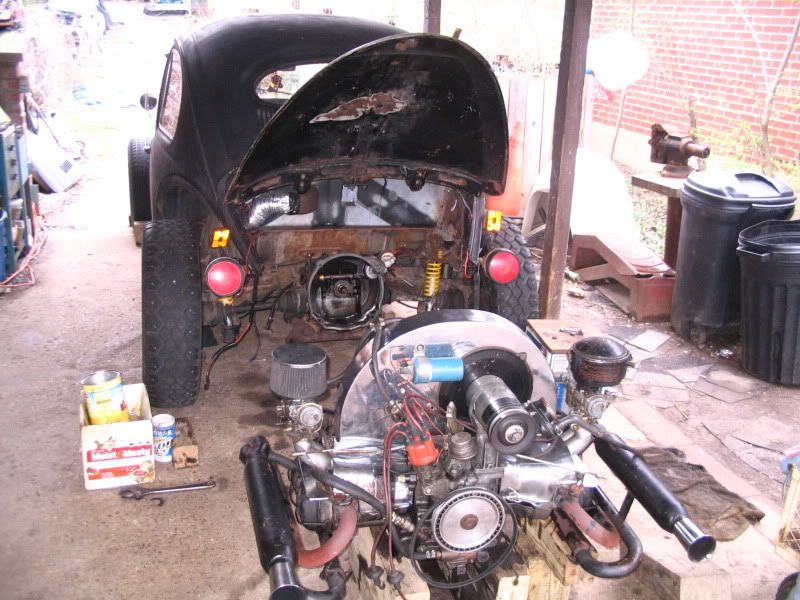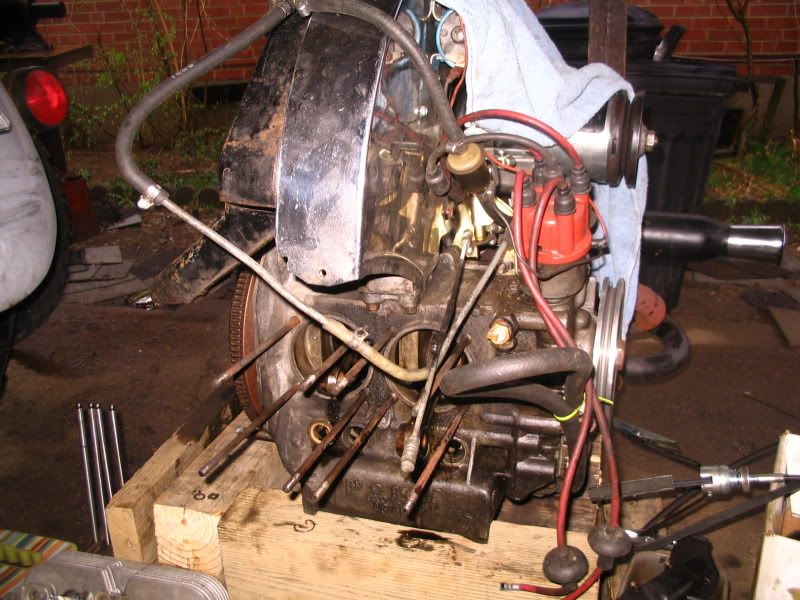 March 24th 2012
So after installing the new piston rings (hope this is the last time until the engine needs and overhaul)
I thought it would be a good time to put my full flow oil filter back on, I had already put one on after buying an oil filter adapter
that they sell, it was a SCAT part, but it turned out to be a shitty piece of scrap, the dadgum tapped hole which is to screw the filter
onto was out of square from the filter seal by about 1/8", I tried to face it off square but had trouble holding it, I'll most likely chuck a piece
of 3/4" steel in my lathe, then I'll chase a 3/4" - 16 thread so I can then screw the filter adapter onto it so I can face the filter sealing surface
off and it should be square and keep from blowing the filter seal out
But what I did was take the oil filter adapter from an S 10 Blazer and make a mount and bolt it on so I can filter the oil
I made up a temporary bracket using a few pieces of 1/8" steel I had laying around, bent a piece, drilled a few holes, then mounted it
to the rear of the engine using the tapped holes in the case that are used for a rear engine mount on the square backs, fastbacks and Buses
It's a rather ugly piece I made, but I plan to cast an aluminum bracket, machine it to fit so it looks like it was supposed to be an original part of the car
Before mounting temporary oil filter bracket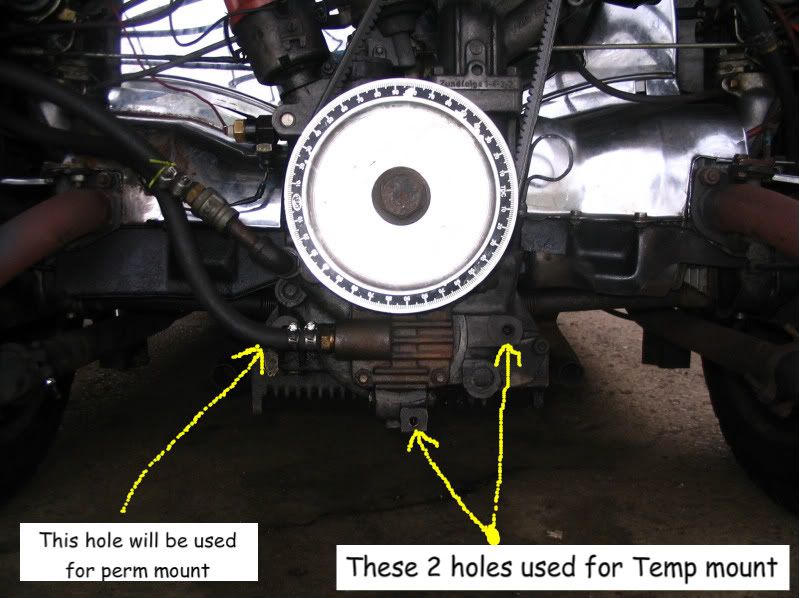 A few pictures of the oil filter mounted, hooked up and filtering the oil, no leaks, it just looks terrible
Still needs a few welds and a gusset or two welded on to make it sturdy, get to that tomorrow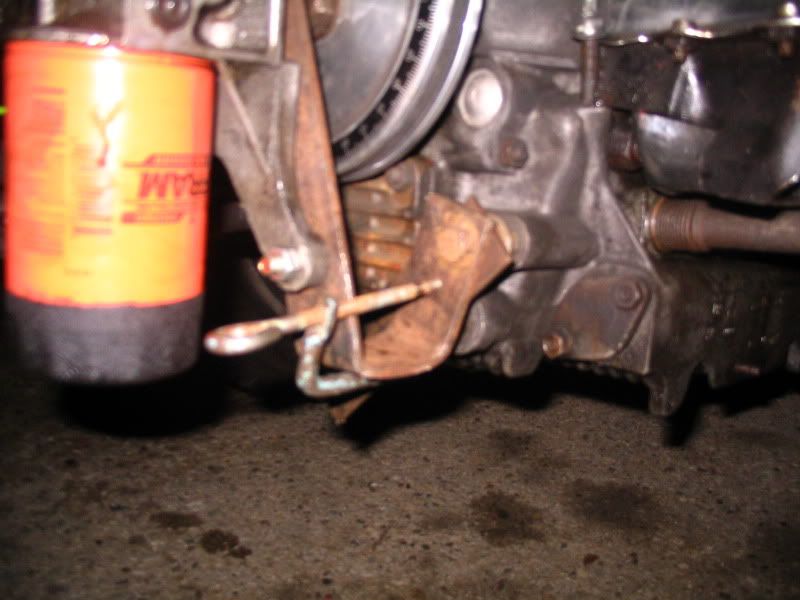 I happened to get a bunch of keys, they looked like the old roller skate keys, so I used 2 of them, tapped a 6mm thread into the holes in the ends
and used them to hold my windshield wiper arms on, I may see if I can use them as switch knobs for the headlight switch & wiper switch
Maybe even make some valve cover screws out of them, who knows what all I can use them for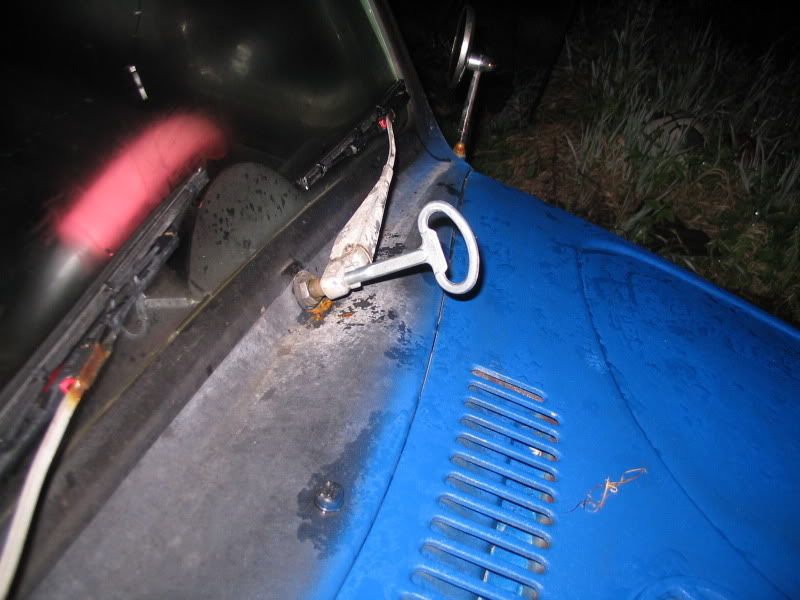 My next move before I paint the outside is probably to chop the top, take out about 4 inches at most, then I'll get to

painting the outside, nothing fancy, just a rattle can paint job, except I'm gonna paint the front of the V-Rod Blue, the back of it Black
Then the middle of it is gonna be Blue & Black fading front to rear, then paint it's name someplace on both sides
6/13/2012
Well it doesn't look like I'll be chopping the top anytime soon
unless I can get my 92 Cadillac fixed & out of the garage
that's so I have a car to drive while cutting up the V-Rod
Anyway I have gotten a few things done to it, different seats, carpet, roll cage, & a super fast paint job
I only painted about 8 to 12 inches, just in front of the doors I put
a little black primer  on trying to fade the black & blue
it's only going to have a little blue paint on the front
maybe a little blue in a few places
Got my hands on some carpet scraps, cut out enough to do most of the inside
just need to fit all the pieces & fasten it down, it has what I would call a "LOAD" color & pattern
I traded a Bug hood & a set of buggy notsochrome headlight buckets for a roll cage
I drove way up to north western Ohio to get the cage, that's what made me
put the Honda Accord front seats in it, they are so much more comfortable than
the VW seats, after the 400 mile round trip I had to change that
Here are a few pictures in no particular order since the last ones
Things are always changing, then again some things never change
Take me for instance, I'll always be slow, what's the hurry!!!
Not sure where I'm gonna go with this "eVill" or if I just make it "eVill"
I may just take it off after awhile
I finally decided to call it the
"Evill Fire Bug"

Carpet not yet cut to fit properly, but if you can imagine how it would
look if properly installed, well it WILL look that way once I get all the cutting & welding finished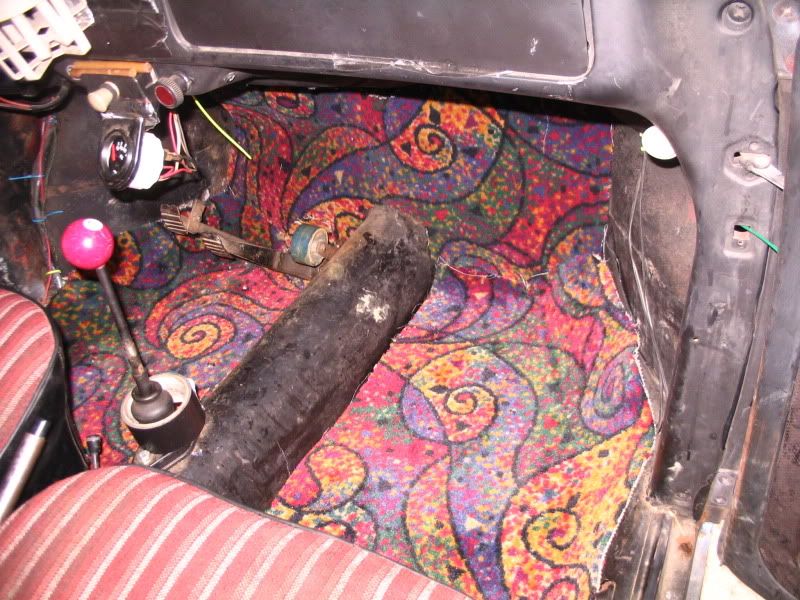 Seats from a 92 Honda Accord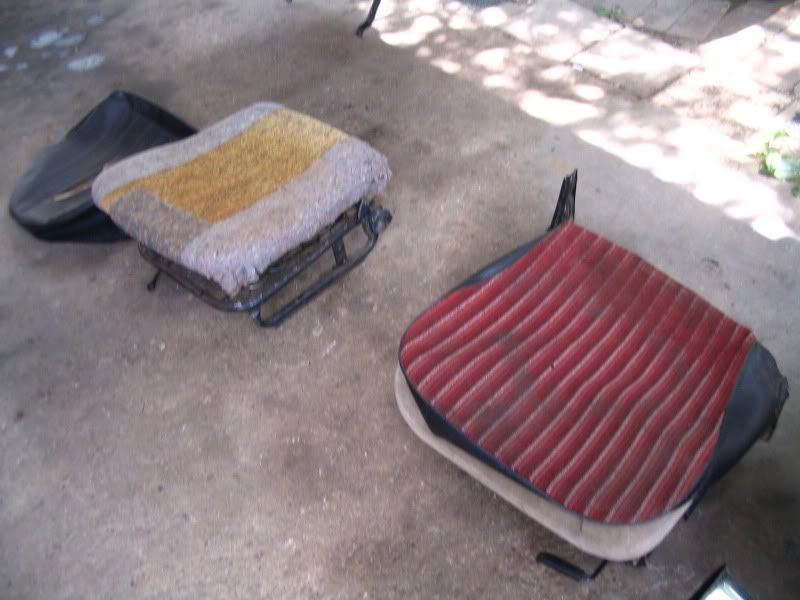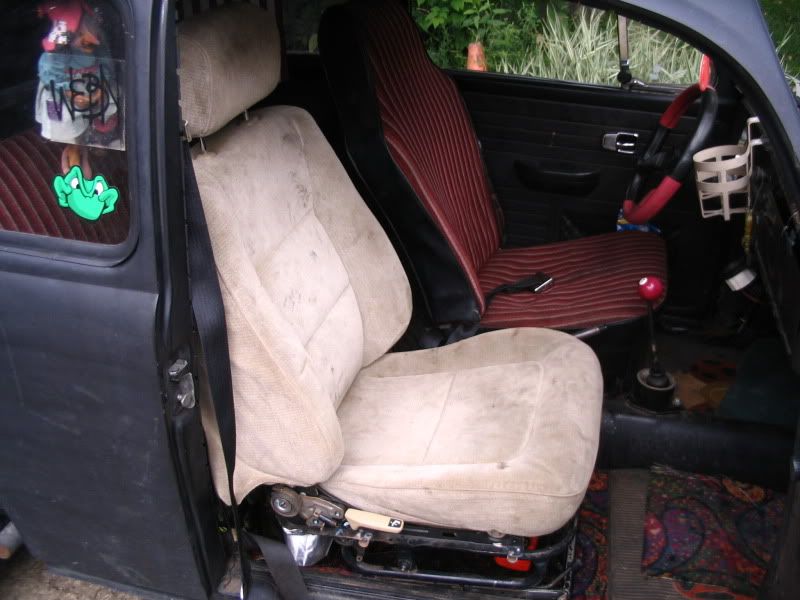 Lot of things finished the last 2 months, my brother "Jeff" slung some Black paint on the back of it,
I also had him blend the Blue to Black with some flames, Most people have said it looks more like fire than flames, I prefer them being Blue, Purple, Pink, & a few different shades of Blue, My fire has the "Blues"

I also widened the rear wheels from 4" to 8" looks real nice, now I need to do the front wheels
to 6" wide. I think the only other thing I did was to put 1 different headlight mount, just need to
do the other side so they sit level.
Here are some pictures of the V-Rod, aka "Burning Blues" it fits
It's burning the Blues to Black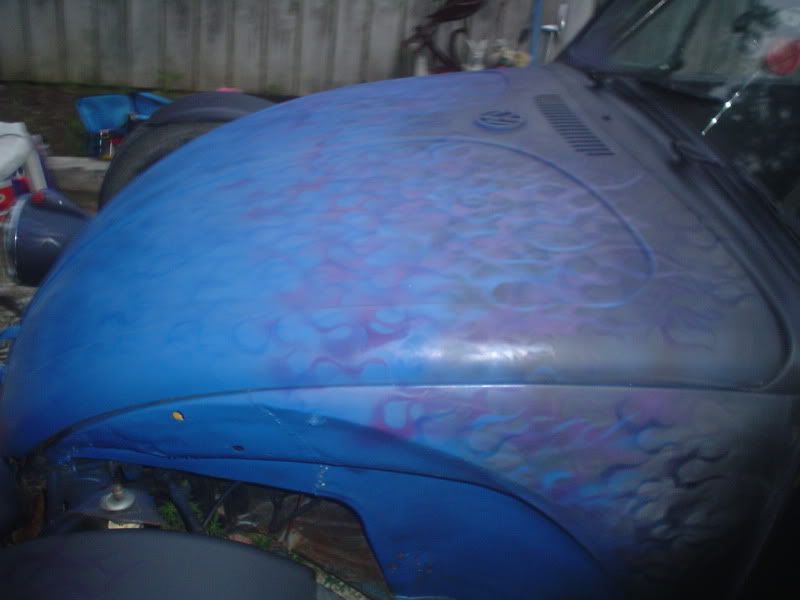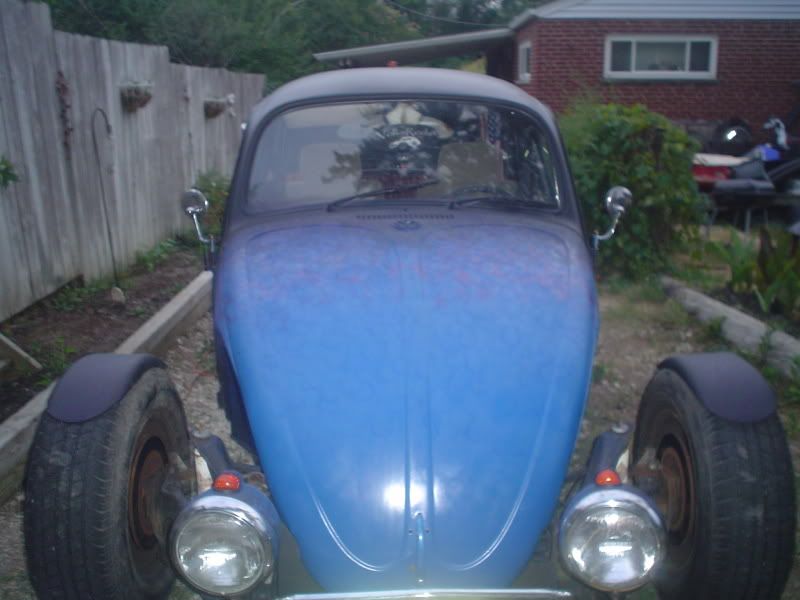 Here it is being painted Black in back

The morning after

I tapped the rear bumper on, it matches the front bumper
I didn't use tape, close, but that's how it's gonna stay
At least until I make some better mounts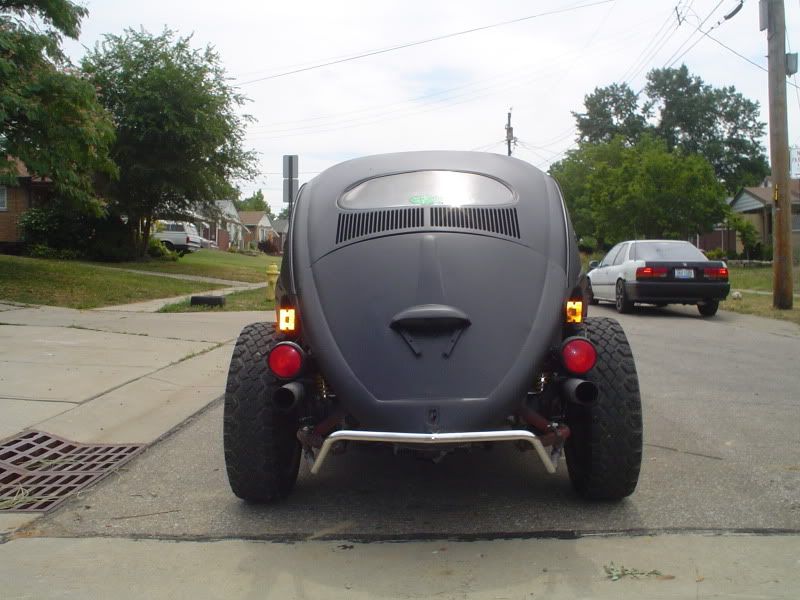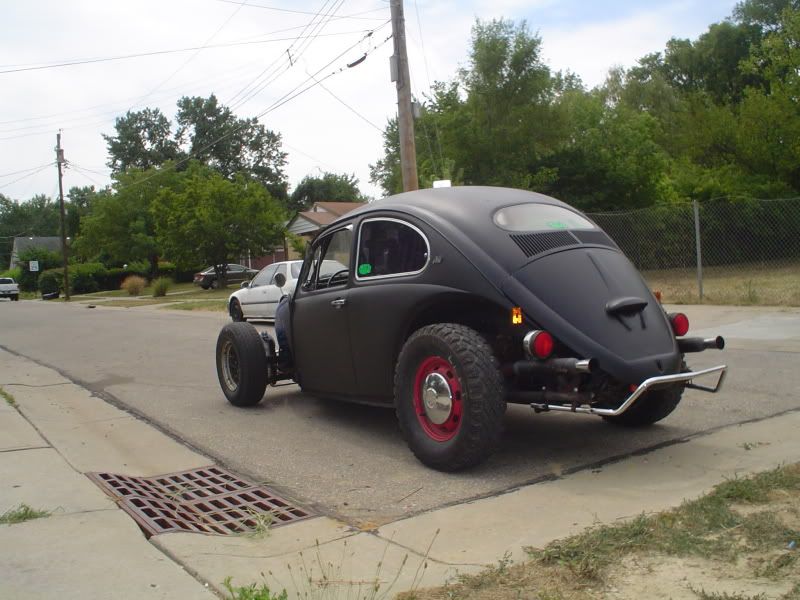 Wheels before paint
After paint. Next I need to finish the front wheels so they match
I did paint the front wheels to match, no hub caps up front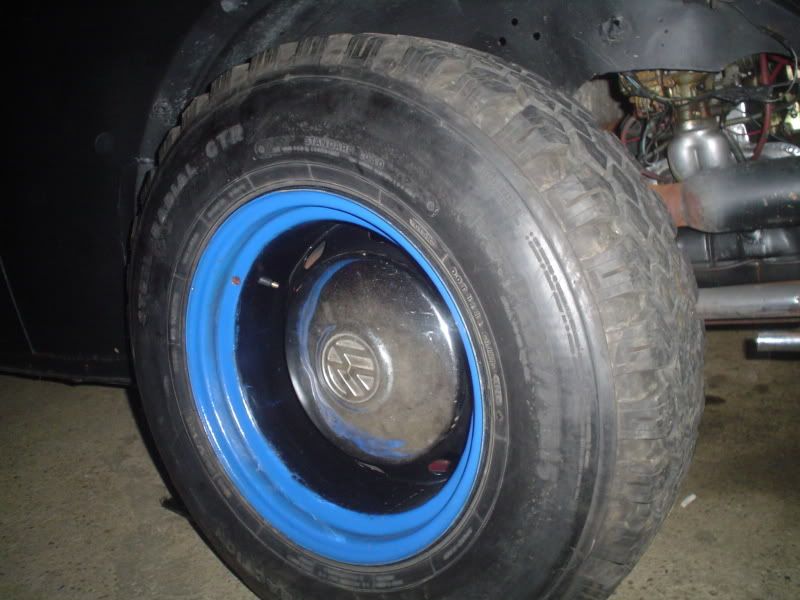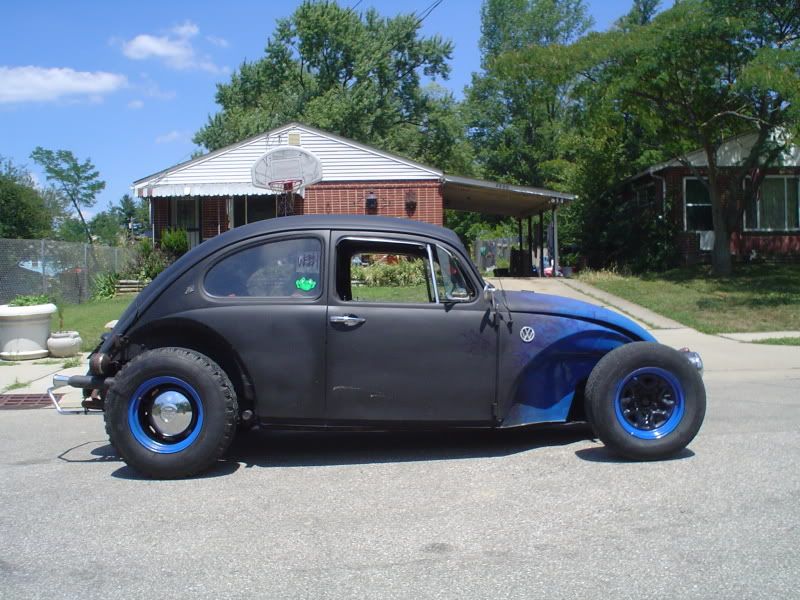 Headlight brackets, I mean connecting rods, I only needed to remove two of them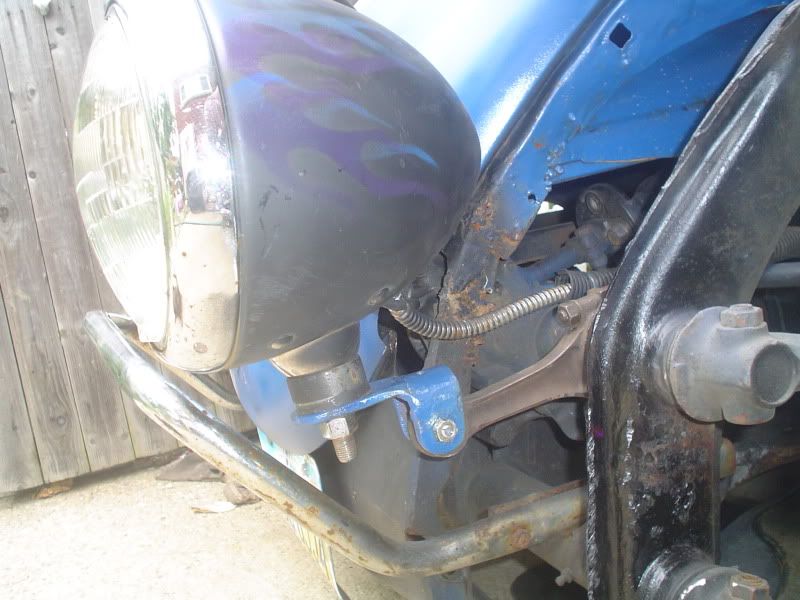 That's about it for now, except the front wheels. Once winter gets here I hope to cut it up, remove a lil here, add a lil there
Who knows what all I'll decide to do, I know I wanna move the door hinges to the back side of the doors
I also plan to fix the hood where it doesn't match up with the front of the body, I used parts
from another Bug to fill in the missing parts, I just need to cut off what I welded on & take my time
I did a shitty job when I put it on, I hurried to get it on so it didn't scoop the air right up
and through the dash vent holes, it's nice on a hot Summer day, but when it's below freezing,
lets just say it has a wind chill factor, the faster you drive, the colder you get
Gotta wear a few extra layers the colder it is, and did I mention
that I start to freeze when it's below 65 degrees F
The end of 2012
So, Winter is here, time for me to spend my days inside where it's warm, I'll get out & do some work on the V-Rod, but I hope to spend most of my days in the BlackSmith Shop where it's nice & warm, we shall see about that. 
Until then, this is what I've done to the V-Rod the past few weeks, I modified the head light brackets, twisted the connecting rods so the wrist pin hole is vertical, that way the head lights don't bounce around, they don't move at all, I also put original 4" wide VW wheels back on with 165/15" tires, I'm gonna hafta widen a set of wheels for the front because it doesn't stop as good as it did with the 205/14" tires
I also fixed the rear deck lid latch, replaced the bungy cord with a leather belt, I also put a leather belt up front to keep the hood closed, I plan to take the outside handle off & eventually fix the front sheet metal so it matches up with the hood, I just kinda threw it on when I started driving it everyday. I'll just put the pictures below. Next big thing is to finish the floor pan I started to drop the rear end down a few inches, I'll work on it when weather allows. I hope to put it under the body sometime in the spring of 2013, if I have the time I'm gonna remove at least 2 inches from the bottom of the body just above the lower door hinges.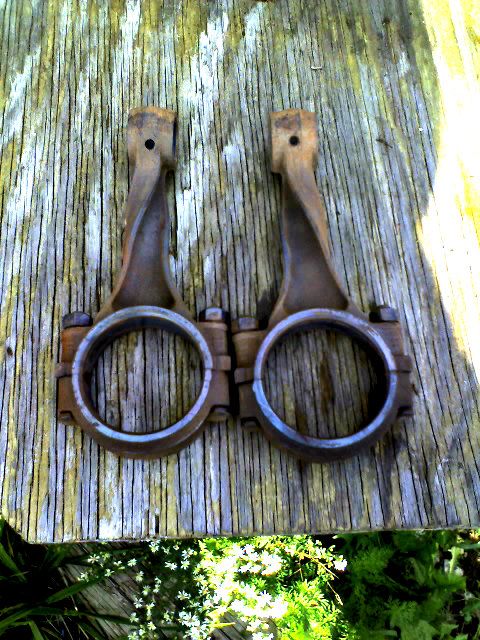 Took the coil-over shocks off to lower it back down (you can see in the above picture, here's the before pic & below it is the after pic, I put a Mt Dew can as a reference, it's about 3 inches at the lowest point, but it rides real good now 

 And last is the floor pan I started, I'm gonna drop the center down so the front & rear suspension are stock, well except the 2-1/2" drop spindles & the 2-1/2" drop that is built in to the extender, still have a lot of work to go, it's just the outer pan section pictured, gonna put about 3" of drop in the rear & the same drop up front, it should leave the rear sitting up a bit higher than the front which is how I want it to sit.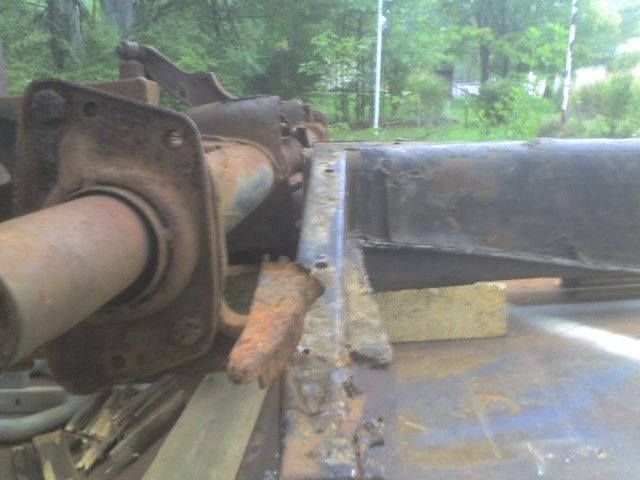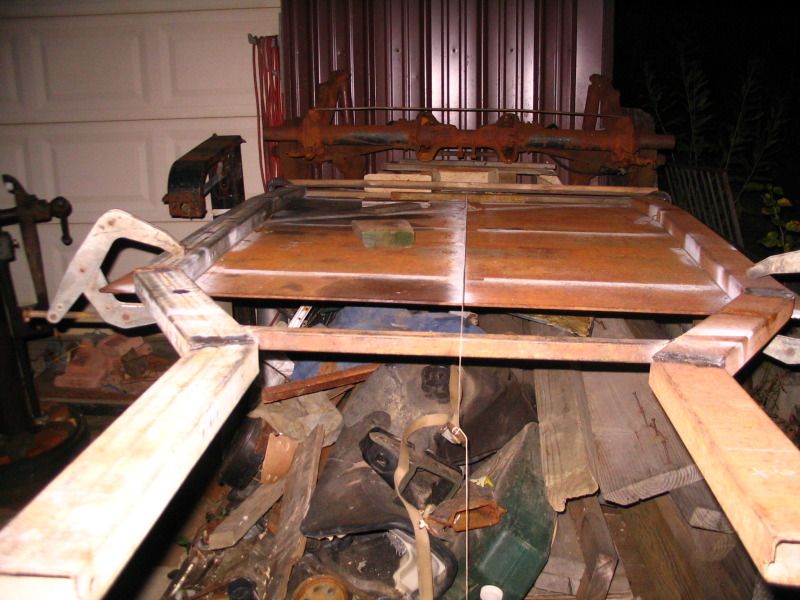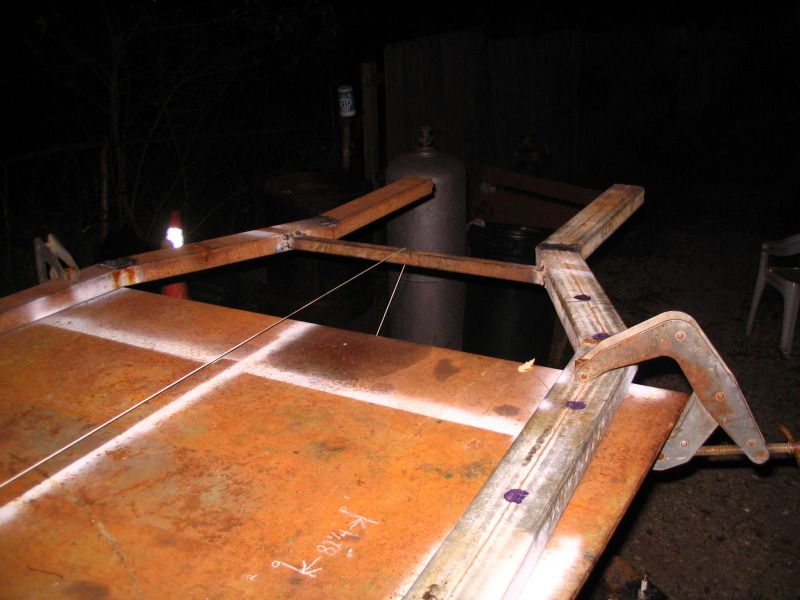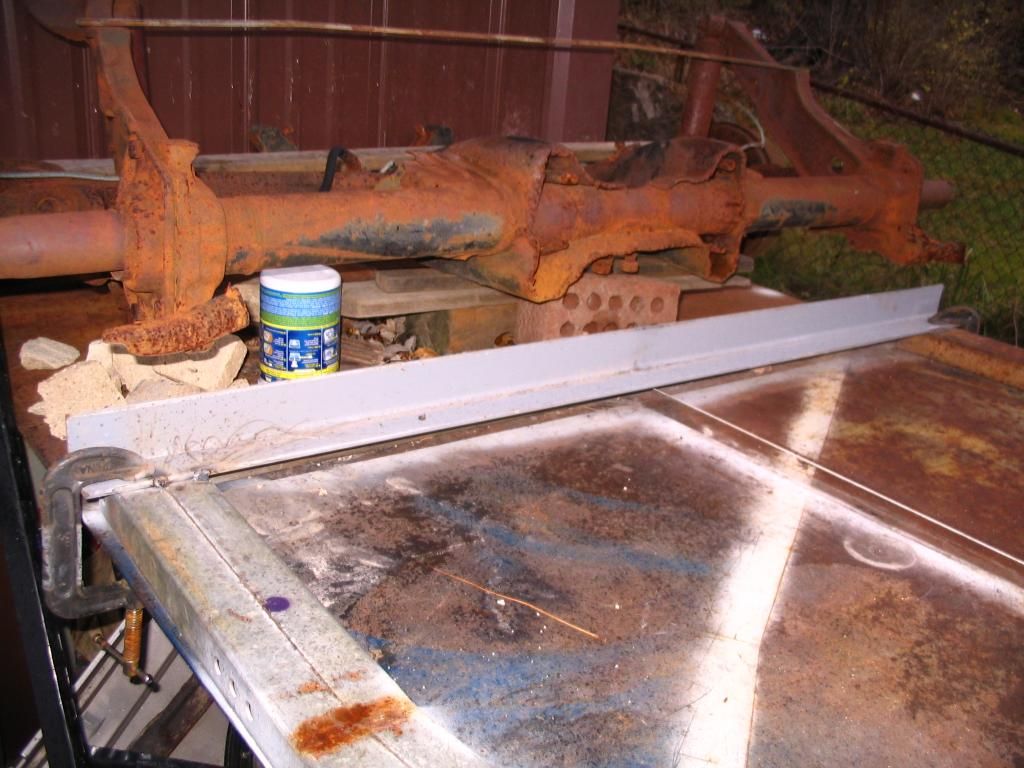 The next updates should be around March or April of 2013, if anything else arises I'll put it here.
Ya'll have fun !!!