So I go myself a Clausing 12 inch lathe with 36 inches between centers, a nice size for small work, plus it has much higher RPM's than my antique Leblond lathe, so once I get it all cleaned up and reassembled I'll have another toy to play with, the big Leblond may not get much attention unless I need to turn parts larger than 12 inches & smaller than 20 inches
A couple pics of the Clausing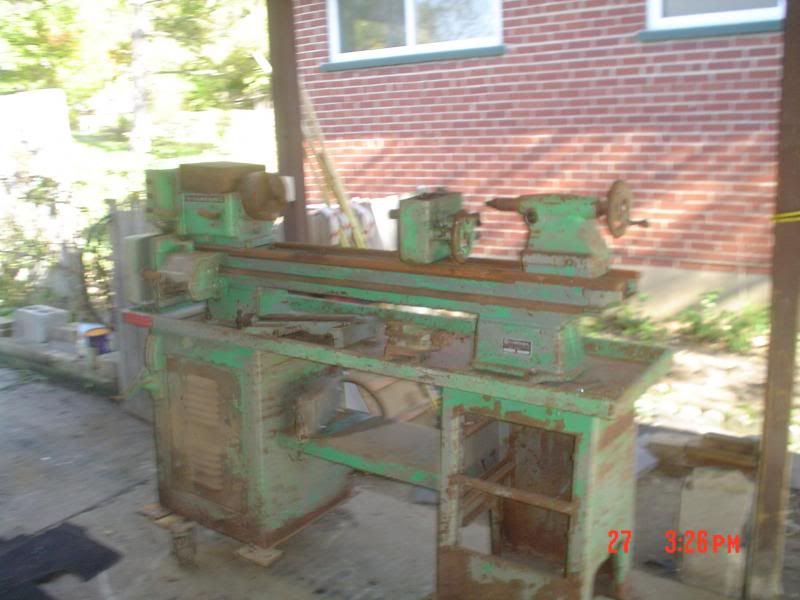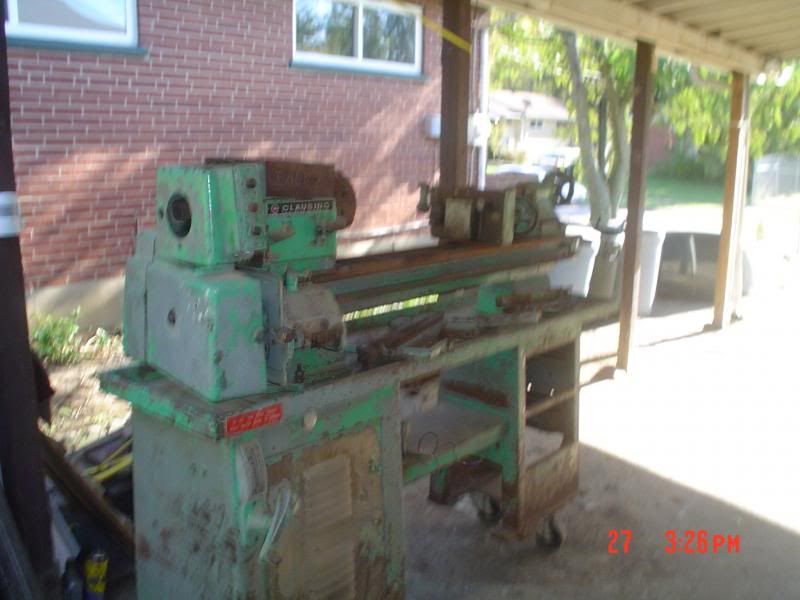 I recently got my hands on a Bridgeport milling machine, it doesn't have a working head, but I have a head from an old Burke vertical milling machine, so I bolted it on & I can now make chips.
Here is a picture of the Burke head I plan to bolt onto my Bridgeport once I get it into my garage/shop
This is my lathe, it is an 1895 Leblonde with a 20" swing and 50" between centers, it has a 12" 3 jaw chuck, a 10" 4 jaw chuck and an 18" face plate. This thing is pretty accurate and in nice shape for its age. I have all but 3 gears for chasing threads, I'm building a dividing head so I can make the 3 gears I need. 
   Was facing off sunflowers
   The threading gears and feed gear side of the lathe, no quick change gear box for me 
This is a Kalamazoo bandsaw, it will cut about an 8" diameter piece, I just need to get a new blade for it, the one on it is getting a bit dull.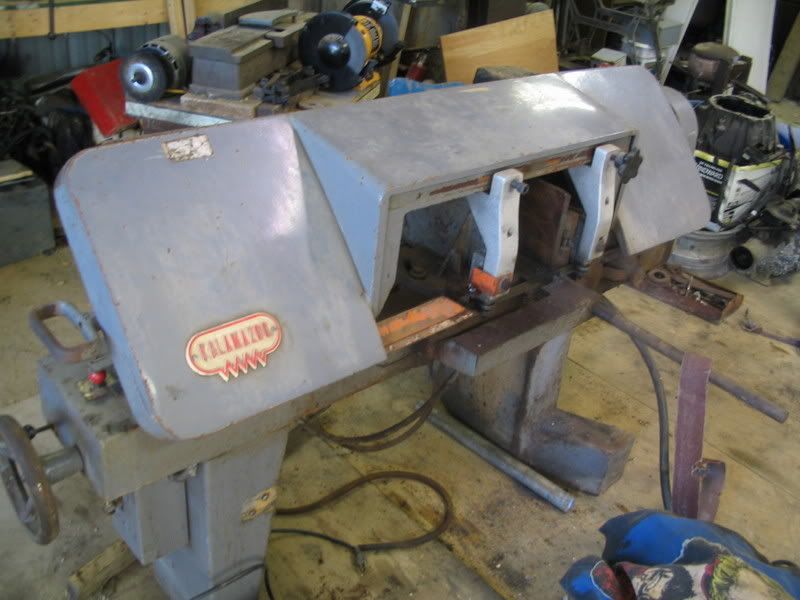 This is an Oakley no.2 universal cutter/surface grinder, I just need to get a motor for it and clean it up so i can use it.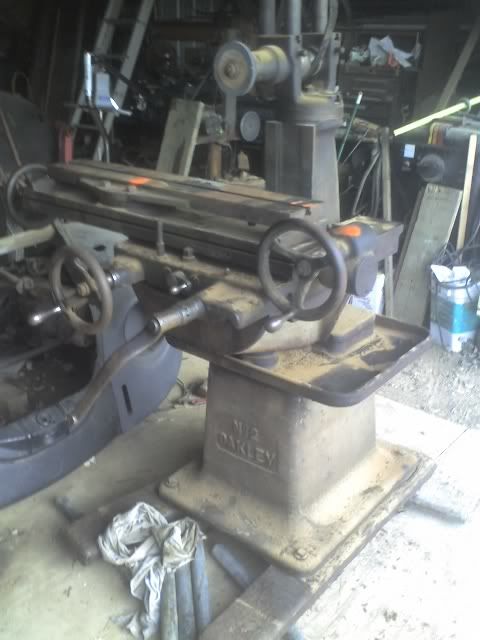 Another view of the grinder.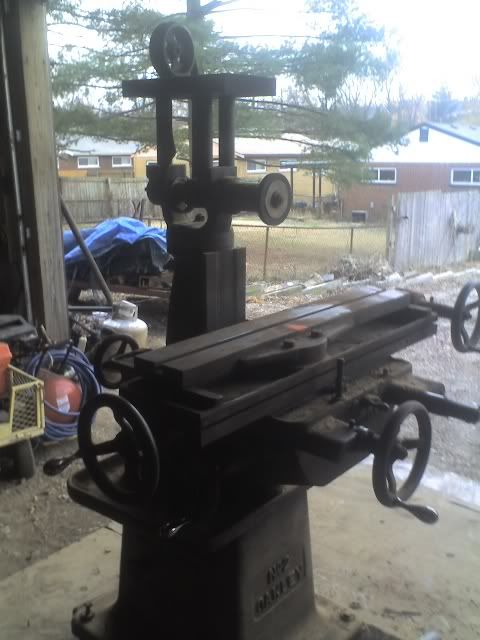 Grinder door, it says it is a No.2 on another side.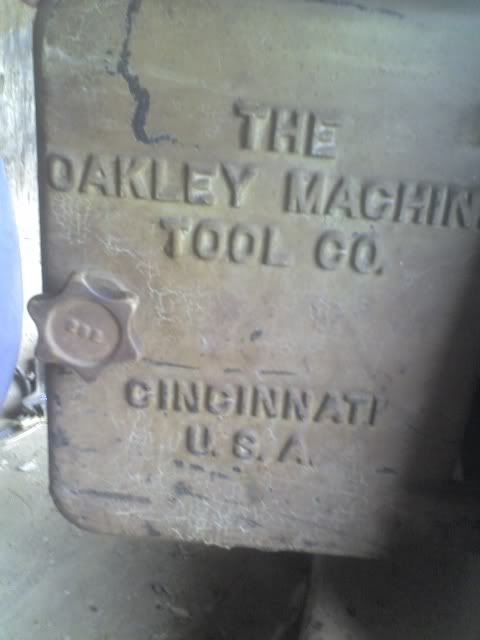 . This picture below is a milling attachment I made for my Leblond lathe, its just a flat plate I made to bolt down on the compound (once its removed) then I have a few other angle plates that mount to it, this one has up & down feed along with side to side feed as well. That blue thing is a vice mounted to it. 
    You can see the dove tail ways for the side to side movement. It look like is isn't square in the picture, but it is within .001" over the full up & down feed and side to side. It can also be turned to any  angle you want by turning the compound plate 
    Below is a belt sander/grinder I built, the only part I didn't build is the top belt tensioner & adjuster, I modified a 9" caster wheel for the bottom front wheel, the top front pulley is a piece of cast and bored for bearings on both sides, the drive pulley is a 4" diameter casting I also turned. I welded some channel iron together to make this, its now mounted onto a stand, it takes 2" by 72" belts and on the opposite side as the belt I now have an 8" disc sander. 
       Another view, the sun made it tough to get a good picture of it.
        Same sander/grinder, maybe from one of those pictures you can see how it was built.
        This is my 1st lathe, which I had to build myself just to have one, its base on a book by Dave Gingery, he has a series of books, I built the lathe just like the book calls for except, I made the headstock a bit heavier, I also added tapered roller bearings to the spindle headstock, they are a set from a VW beetle I happened to have laying around. I also still need to finish the tail stock, I have it cast and also started machining it, I just need to finish it, someday maybe.
       Another bench lathe I picked up, its missing a few parts, only thing here is the bed ways, headstock and tailstock, I may try to build a carriage and crossfeed for it. This is one of those  "I will do this when I run out of other things and I'm bored" I'm in no real gurry for it yet.
This is a Van-Norman horizontal milling machine that dates back to the late 1800's. I did away with the motor mount on the top, I put a large V belt pulley on the back side of the spindle I still havent mounted the motor and gear box to it yet.  
        It also had an air feed unit on it which didnt seem to work right no matter how i adjusted it, I think the rubber seals were bad, so maybe one day i can fix it and put it to use again.
        This machine below is a Whitney horizontal milling machine, I would guess it to be about an 1870's machine,
I really couldn't find any info on it, just the name and size cast into one side
That's my 66 VW Bug sitting outside the garage door, it now resides in the driveway
I put a V8 in it back around 2008 - 2009, built a rear frame then spliced it with an S10 Chevy truck front suspension clip
Just need to finish fabricating the firewall, exhaust, then tear it all down, finish welding everything, mount the body
Rebuild the engine and transmission, put it all back together, wire everything, then continue to drive it everywhere!!!
        What i like about this little machine is the spindle and over arm ram all move up and on a set of ways, it has an adjustment screw to set from the lowest travel wanted 
         Pictures are a bit out of order, but you can see the spindle bearings I used on me bench lathe, the ones from an old VW Bug, I need to make a better seal to keep them from getting chips or dust in them, I use a piece of cardboard for now
          Here you can see the carriage feed screw, its a 3/8"-16 threaded rod mounted in bearings i made mayself then near the bottom right you can see the screw feed handle. The next picture is the "half nut" used to turn on the automatic feed
         You can see the rod sticking  thru the plate on the left side, there is supposed to be a hanfle there to turn the "half nut"  1/4 turn so it engages with the feed screw, turn it back and it stops the carriage. I have been using vise-grips as a feed handle
         The picture below is the rough bed casting, the ways which are only a piece of 3" wide by 1/4" thick CRS long enough to stick over the ends of the casting, the ways bolt to the top (opposite side) of the casting using flathead screws. 
  Next is my aluminum pop can crushed, its probably faster using my feet, but it hurts my feet much more than this does.
Its made using 2 air cylinders, the reason for 2 cylinders is because 1 didn't have enough stroke to do it, that, and I can do the taller cans as well with no problems.
  I need to cast some ends to screw onto the air cylinders, right now i only have wood on them, its starting to get a bit weak, so some day i will cast a couple round 3" pieces then tap a 3/4"-10 thread so i can screw them onto the cylinders, I can get the cans about 3/4" to 5/8" thick with this unless i turn the air way up, but there is no need for that, plus my compressor cant keep up.
More to come